By Tory Hernandez
Arizona Daily Wildcat November 19, 1997

2,200 students pack the polls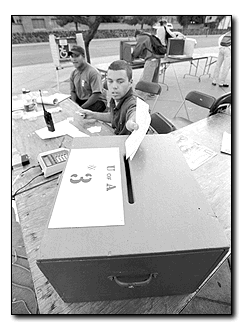 Chris Richards
Arizona Daily Wildcat

Business freshman Robert Peel drops Student Union fee referendum ballots in a box yesterday afternoon outside the Harvill Building. Peel was a volunteer at one of several stations where students voted for or against a $40 per semester fee to renovate and expand the Memorial Student Union. Voting continues today.


The voter count for the Student Union fee referendum exceeded predictions yesterday as an estimated 2,200 students went to the polls, ASUA officials said.

Associated Students President Gilbert Davidson said student government officials anticipated a two-day total of 2,500 votes for the Student Union fee referendum. Voting continues today.

"I think it's incredible that that many students got out to vote and made a stand on this referendum," he said. "The sheer number of voters shows that students do care about the project."

Elections Commissioner Marcos Hernandez said he expected more students to vote today.

"There are more people on campus on Wednesdays than Tuesdays, so we could get more votes," he said, adding the final count could exceed 4,000.

"We typically get between 9 and 11 percent of the student body voting in the big elections," Hernandez said. "So this is a pretty darn big number for one day."

The referendum, if passed, would impose a $40 per semester fee on students.

The fee would finance $31.5 million of the proposed $70 million in Memorial Student Union renovations.

Hernandez said the ballots used were the same as those used for the recent City of Tucson elections that were contested due to defective ballots.

He said he didn't anticipate problems with these ballots.

Poll workers in front of the Nugent Building said they experienced a steady flow of voters throughout the afternoon.

Other polling sites had long voting lines, according to Davidson.

Hernandez said he was going to order more ballots from Pima County elections officials today since they had used more than half of the initial 3,500 ordered.

The ballots were held at an off campus location overnight, Hernandez said.

Only two people had keys to the locked ballot boxes: Hernandez and Assistant Elections Commissioner Robert Sandoval.