By Doug Levy
Arizona Daily Wildcat November 20, 1997

More bang for your buck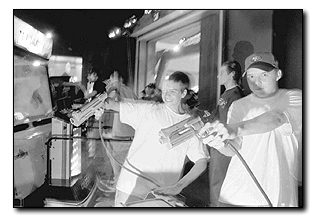 Charles C. Labenz
Arizona Daily Wildcat
Scott Mehl (left) and Kevin Schaller shoot zombies and ghouls while playing "The House of the Dead" at Stage 35's debut at the Foothills Mall.

For some reason, Tucson is constantly being used as a test market. All manners of products show up here, at one time or another, that may or may not make it to rest of the country, depending on their success.
Well, it's happening again, but this time the product isn't something you can actually hold in your hands. It's an entertainment concept called "Stage 35," and it's brought to you by Sega Gameworks, a company which boasts Steven Spielberg amongst its corporate staff. What we're talking about here is a sort of cross between a video-game arcade and a television soundstage. The first ever "Stage 35" opened its doors to the public this past Saturday in the (almost) newly-renovated Foothills Mall (7401 La Cholla Blvd., off Ina Road).
Previously, Gameworks had been involved in the opening of actual "Gameworks" establishments in larger cities around the country, places which creative producer Dennis Larkins describes as "kind of a cross between an arcade and a nightclub." "Gameworks" occupies about 30,000-square feet and, in addition to the latest state-of-the-art games, features a bar and a restaurant.
On the other hand, as Larkins says, "'Stage 35' is designed to appeal to a younger audience primarily, but ... the idea for me is to create a stimulating, positive fun environment that would appeal really to anyone."
Larkins and his team of designers actually work on a Universal Studios soundstage. Stage 35, to be precise. Hence the name. In setting up the environment for the arcade, they divided the space (about a fifth the size of the larger venues) into what they call "neighborhoods." Describing them as sort of like mini-sets for television shows, Larkins adds, "each one is a little themed environment, with backdrops, theatrical lighting and so forth."
The entrance to "Stage 35" is through what he calls a "deconstuctivist industrial facade," which leads you to the "neighborhoods" themselves, "The Living Room," "The Surf Shack," "The Half-Court" and "The Garage." Each area features numerous props and elaborate design, as well as a variety of games that fit (loosely) with its theme.
And, of course, it's the games that are most important here, because regardless of what went into the creation of "Stage 35," it's still an arcade, so if the games aren't up to par, it won't work. Fortunately, they are and then some. More than half the games featured seem to have some sort of actual interactive component, from the skateboarding game "Top Boarder," where the player actually stands on and manipulates a skateboard, or the wave-riding game where you sit on a simulated vehicle, to the mock-up of a batting cage, which involves swinging an actual bat at a computer generated ball on a screen. There's even a fishing simulation where you hold a rod and reel.
The only real drawback is the price of these games; averaging at about a $1 per play, it can get real costly, real fast. Fortunately, there is a solution to running through your paycheck in an hour. Tuesday nights from 5 to 10 p.m., $10 buys you unlimited play.
Stage 35 is open M-Th 10am-9pm, Fri. & Sat. 10am-midnight and Sun. 11am-9pm.