Arizona Daily Wildcat November 19, 1997

Pow! It's the Ground Zero Reader Survey!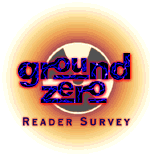 Hey, kids! We here at Ground Zero are once again making an attempt to show you that we care, both about what you think, and about what you want to see in your weekly Arts magazine (and daily supplements, too). So, it's time for you to give us some feedback.
Tell us how we're doing. What you like and don't like. And just to be sure that this doesn't degenerate into a chaotic mess of rants and raves, we're even giving you the format to use. So, without further ado, allow us to present the first ever
Ground Zero Reader Survey!
Please rate each of the following Arts features on a scale of 1 to 5, with 5 being an essential feature you can't live without and 1 being a waste of time that just takes up space that could be used for something more interesting. (If it's a feature you enjoy only occasionally, or are indifferent to, give it a 3.)