By Craig Anderson
Arizona Daily Wildcat November 24, 1997

Thanksgiving on Sunday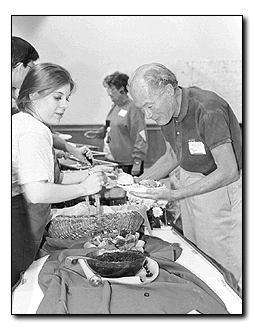 Tanith L. Balaban
Arizona Daily Wildcat

Tom Oakley gets extra helpings of a Thanksgiving dinner yesterday in the Arizona Ballroom of the Memorial Student Union. Oakley was one of about 450 senior citizens who attended the Fourth Annual ASUA Thanksgiving Dinner.


Florence Brenner exchanged stories, humor and wisdom with Ashley Robinson over a turkey dinner yesterday.

"You should be studying, not playing cards on Sunday," the 65-year-old Brenner told Robinson, a marketing freshman.

While a passer-by might have assumed they were grandmother and granddaughter spending an early Thanksgiving together, the two had never met before.

Brenner was one of the about 450 elderly Tucsonans who attended the fourth annual Associated Students Thanksgiving Dinner at the Arizona Ballroom in the Memorial Student Union.

"I've been coming for two years now," she said.

Robinson was one of more than 100 student volunteers who served the early Thanksgiving feast to the guests, many of whom live at five local senior centers.

"It's like having two Thanksgivings this year," Robinson said, adding she will go home to Dallas during the holiday weekend for a family celebration.

The ASUA Senate-sponsored event was to benefit many of the community's seniors who otherwise might not have had a Thanksgiving dinner.

"It was a lot of fun," Robinson added. "It was getting boring just sitting around at the dorms."

Sen. Summer Katzenbach said more seniors turned out this year than ever before.

"It's a great opportunity for ASUA to give back to the community," Katzenbach said. "It's also great to see young people chatting and laughing with seniors."

Student volunteers split about 50-50 between ASUA and non-ASUA members, said Laura Casper, chairwoman of the ASUA College Advisory Council.

"It's a great turnout of volunteers and everyone's enjoying themselves," Casper said.

Casper said there was dancing and the guests serenaded the volunteers and each other.

Meanwhile, volunteers served turkey, mashed potatoes, cranberry sauce, rolls, green beans and pumpkin pie.

Brenner said she came to the dinner last year after a friend told her about it.

"I hope I can come back next year," she said, adding this year's dinner was better than 1996's.

"It was much more festive this year - almost like a party," she said. "They gave away door prizes but I didn't win anything."

According to Katzenbach, ASUA funded the dinner with help from local businesses like Wells Fargo, Arizona State Savings & Credit Union, Coffee Etc. and Fry's Food Stores.

Casper said the turnout was even bigger than the 300 to 400 expected, that seniors in addition to those invited from local senior centers, came out.

All were welcomed, Casper said.

Biochemistry senior Alexa Carrara drove one of the vans that took dinners to and from the event. She said people were excited and couldn't wait to get to the meal.

"People were pushing to get on the vans," Carrara said.

Other seniors found their own means of transportation to the dinner, Casper said.