By Chris Jackson
Arizona Daily Wildcat November 24, 1997

Skieresz, Abdirahman gun for national titles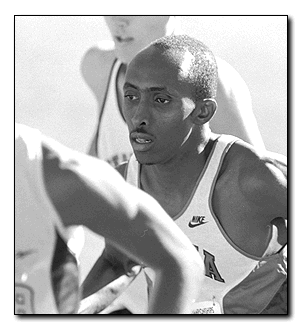 Adam F. Jarrold
Arizona Daily Wildcat

Junior Abdi Abdirahman races in the Nov. 15 regional championships. He and Amy Skieresz will compete in the cross country NCAA Championships in Greenville, S.C., today.


They come across as polar opposites.

One is confident, talkative and assured of his chances. The other is quiet, worried and humble about her own.

Yet he's never been to the NCAA Championships, while she's been there twice, capturing the title last year.

UA juniors Amy Skieresz and Abdi Abdirahman are the only two Wildcats headed to the cross country championships in Greenville, S.C. today, as the UA teams did not qualify at last weekend's Far West Regional championships in Tucson.

"Amy is always very quiet, very reserved," UA head coach Dave Murray said. "Abdi is always so exuberant, so talkative. He's showing a lot of self confidence."

Skieresz qualified for nationals after winning the regional last Saturday. She has won 14 consecutive races, her last loss coming at the 1995 NCAA's.

"I kind of just keep with the usual regimen," said Skieresz of her preparation for the meet. "It keeps me calmer."

Skieresz goes into the meet as "the overwhelming favorite," Murray said.

"There's a lot of pressure on Amy," he said. "Everybody and their brother are saying that she's going to win and win easily."

Skieresz, though, remains her modest self regarding the meet.

"If you start thinking of it as that (as nationals), you can get distracted and someone can come up and surprise you," she said.

Abdirahman is in his first year at UA, after transferring from Pima Community College, and surprised Murray by becoming the Wildcats' top men's runner. Abdirahman qualified for nationals after coming in third at the regional.

Murray said that Abdirahman's main competition will come from UCLA's Mebrahtom Keflizighi, Washington State's Bernard Lagat, plus two runners from Michigan and Adam Goucher of Colorado.

"I think Abdi can beat everyone else," Murray said. "I think he can beat a couple of those guys, too."

Abdirahman has raced all but Goucher before, coming in behind Keflizighi and Lagat in that order at the regional. Lagat was the Pacific 10 Conference champion while Abdirahman came in seventh in that race.

The meet starts today at 11 a.m. Tucson time.