By Craig Degel
Arizona Daily Wildcat November 24, 1997

Stepping into the spotlight - Bramlett looks to build on last year's tournament success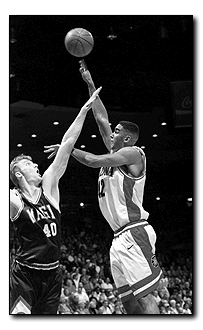 Adam F. Jarrold
Arizona Daily Wildcat
Junior center A.J. Bramlett tips the ball up over the Melbourne defense.

For just $40, anybody can be A.J. Bramlett
Well, that money won't buy his spot on the Arizona basketball team. And it won't get his double-doubles from the 1997 NCAA Tournament.
Come to think of it, it won't even come close to buying you a pair of his Nike shoes. It will, however, get you a replica of his jersey with his No. 42 on the back.
"That's pretty cool," Bramlett said with an ear-to-ear grin. "I've always wanted one of those. When I was a freshman Ben Davis had one and it was something I wished someday I could get. I wish everybody (on the team) could have one."
Needless to say, the last six months have been interesting in the life of the junior center.
In March, Bramlett's lack of bulk - he is 6-foot-11, 225 pounds - was seen as the main reason Arizona's chances in the NCAA Tournament were slim, so to speak. However, Bramlett proved his doubters wrong, becoming the leading rebounder in the Tournament. T hen when the Wildcats won the national championship, Bramlett's biggest critics became his best friends.
"You just have to take it with a grain of salt," Bramlett said. "We went through most of the year with the offense structured around the guards."
In other words, he's a solid, sometimes explosive center who can get the job done when called upon. And when the spotlight of the Tournament shone down on the Wildcats, Bramlett became a star.
"To be honest with you," Arizona assistant coach Jim Rosborough said. "We're surprised there weren't more games (like that).
"In the tournament, you want to step up for your teammates."
His play in the Tournament also meant he could no longer hide in anonymity behind the bigger names like Miles Simon, Michael Dickerson and Mike Bibby.
"We are all recognized a lot more, even across the country," Bramlett said. "I was in Chicago and some people came up to me."
And those people were members of a pro-am league that he was a part of for the summer, playing against young professionals and college age players. Now, in scrimmages at the Student Recreation Center, Bramlett spends his afternoons battling former Wildcat's Ben Davis and Joseph Blair.
Of course, being recognizable has its disadvantages, too. For several weeks, debate raged on an Arizona basketball chat site on whether or not Bramlett looked like Bert from Sesame Street.
Bramlett seems amused by all the attention. To get away from it, he and his best friend, Wildcat guard Jason Terry, watch tapes of the games from Arizona's march to the championship. At first he does not admit to watching the title game against Kentucky very often. Then, with a nervous laugh, Bramlett comes clean.
"Well, maybe about six times," he said. "J.T. and I watch the others a lot more."
Inevitably, though, talk will turn to the new season and whether or not Arizona can repeat. They have all five starters returning - in fact the top eight players - to a national championship team for the first time since the 1968 Bruins squad with a junio r center by the name of Lew Alcindor. He later became popular under the name Kareem Abdul-Jabbar. Despite that, many publications - and ESPN analyst Dick Vitale - have the Wildcats picked No. 2 behind Duke.
"It's been happening," Bramlett said. "We just have to go out, play hard, and show them all again."
A.J. Bramlett
42 - Junior center 6-11, 217
Albuquerque, New Mexico

Last season's statistics

G-GS 33-28
Min. 788
PPG 8.1
RPG 6.9
Ast. 19
FG Pct. .529
3FG Pct. .000
FT Pct. .526
Stl. 25

Two words that describe me best: Hard worker
The thing I will always remember about winning the NCAA championship: Seeing myself on "One Shining Moment"