By Seth Doria
Arizona Daily Wildcat December 1, 1997

Mismatch in Arizona's favor vs. Lumberjacks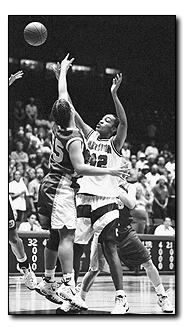 Tanith L. Balaban
Arizona Daily Wildcat
Senior center Marte Alexander (42) shoots from the top of the key over an UCSB player in last week's game. The 6-foot-4 Alexander has a four-inch height advantage over Northern Arizona's tallest player in tonight's 7 p.m. game in Flagstaff.

If you attended the women's basketball team's 107-74 rout over UC-Santa Barbara, you saw senior center Marte Alexander use a 2-inch height advantage over Nicole Greathouse to explode for a career high 24 points and 11 rebounds.
If you plan to make the trek up to Flagstaff tonight at 7 to see the 12th-ranked Wildcats take on NAU, you will probably see much of the same.
Whereas UCSB's center was only 6-foot-2, the Lumberjacks tallest starting post player is 6-foot even, and should have a difficult time dealing with the much improved 6-4 Alexander.
When asked if she would exploit the size advantage inside, head coach Joan Bonvicini simply replied, "I would hope so."
NAU, in an attempt to get away from Alexander in the paint, will probably look to their backcourt for offense, similar to what UCSB did with their point guard, Stacy Clinesmith.
The Wildcat defense, led by senior DeAngela Minter and sophomore Felicity Willis, held Clinesmith to 1 of 8 shooting and forced her to commit seven turnovers.
While the Wildcats are heavy favorites, Bonvicini will be looking to improve her team's performance in preparation for future games against better opponents starting with Friday's Insight Women's Classic at the McKale Center.
Northeastern, Wichita State and 14th-ranked Nebraska will join the Wildcats in that tournament.
"We're going to throw in a few wrinkles here and there," Bonvicini said. "We have to take care of the ball better and rebound better."
Bonvicini was especially unhappy with UA's rebounding at halftime of the UCSB game when the Wildcats were out-rebounded 25-18. Fourteen of those rebounds were off the offensive glass, virtually keeping UCSB in the game.
"We just have to continue to work hard," Bonvicini said.