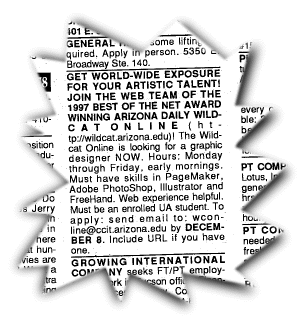 he Online Wildcat is looking for a graphic design/digital artist to help with daily website creation and maintenence.
Are you...
Interested in working with digital media?
Good with Photoshop? Illustrator? Freehand?
Familiar with HTML and website design?
A currently enrolled UA student?
Able to work mornings?
Interested in having thousands of people see your work?
Don't worry if you don't fit all of the above criteria - we're willing to train you. Previous Photoshop experience, however, is an absolute necessity. Previous web-publishing is highly preferred, but not absolutely necessary.

We're currently taking applications and reviewing URL's, so drop us a line.

wconline@ccit.arizona.edu