By Mary Fan
Arizona Daily Wildcat September 3, 1997

Law student urges city attorney to drop case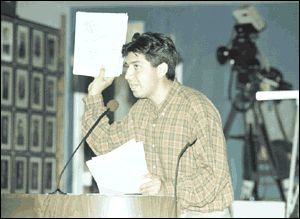 Nicholas Valenzuela
Arizona Daily Wildcat

Demitri Downing, a third-year law student at UA, speaks at a City Council meeting yesterday about a suit, filed by the Tucson City Attorney's office, which charges that he is ineligible for campaign matching funds. Downing is running for city councilman for Ward 3 in next month's primary election.


A University of Arizona law student who is campaigning to be Ward 3 City Councilman urged the City Council yesterday to tell the Tucson City Attorney's office to drop its appeal against him.

The student, and candidate, Demitri Downing won a lawsuit against the city and city clerk's office Aug. 8 that enabled him to receive campaign matching funds from the city. Earlier he had been ruled ineligible because he did not meet the criterion of being a registered Tucson voter for three years prior to announcing his candidacy.

Superior Court Judge Robert Donfeld ruled Downing was eligible for funds because he was a candidate and should run on a level playing field.

The appeal, led by Senior Assistant City Attorney Dennis McLaughlin, charges that Donfeld's ruling is incorrect.

"In that ruling he makes access to public money equivalent to the process of becoming a candidate, effectively creating a private right to public money. We believe it is incorrect," said Deputy City Attorney Brad Detrick.

The appeal was filed as a special-action suit, which requires a response within four days, rather than a regular lawsuit, which would take 60 to 90 days to complete.

Downing said the appeal is crippling his ability to campaign effectively because he is acting as his own lawyer and must spend campaign time dealing with the suit.

"The city clerk and city attorney are acting at their own discretion to compromise my campaign, possibly because they see a young individual who understands that they work for the City Council and not vice versa," Downing said.

Detrick said that it is not the City Attorney's office's goal to cripple Downing's campaign. He said the appeal was filed to clarify a point of law in the city's charter that Downing's original suit addresses.

The special-action appeal, Detrick said, was necessary because the suit would run in the timeline of the election, giving the issue case and controversy, which is needed to push an action through.

Downing charged that is not true. He also charged that the City Attorney's office was acting without knowledge of the City Council. He said his purpose for speaking at the meeting was to bring the issue to light.

Yuri Downing, treasurer for Demitri Downing's campaign, said, "The City Attorney's office is making policy decisions on issues of importance to Tucson citizens without consultation of mayor and council."

Demitri Downing said the City Council was unaware of the actions of the City Attorney's office.

After Demitri Downing's presentation before the council, Mayor George Miller indicated that this was indeed the case.

"It's the first time I've ever heard about it," Miller said.

After Downing's statement, Detrick revealed that the City Attorney's office is in support of Downing keeping any matching funds he receives prior to the completion of the appeal - regardless of whether the city attorney wins or loses.

However, Downing charged that the special-action appeal will be pushed through before he is able to receive any matching funds. He noted that the paperwork required to receive the funds takes 14 days.

City Clerk Kathleen Detrick said at this point she will abide by Judge Donfeld's ruling. Downing will receive matching funds once he receives the requisite number of donations and files the necessary paperwork.

"Once he qualifies, he's just the same as everybody else. We're in business," she said.

Downing said that unless the City Attorney's office is urged to drop the case he must continue to split his time between court and campaigning, which puts him in a difficult situation.

"It's all the powers of the city down upon me unrestricted by elected officers," he said.

Downing is hoping that once the City Council is apprised of the situation, they will act to curtail the efforts of the City Attorney's office.