By Bryon Wells
Arizona Daily Wildcat December 4, 1997

Dang Kids!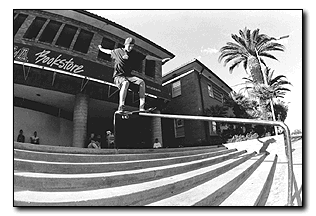 Charles C. Labenz
Arizona Daily Wildcat

Tucson resident Tom Cunningham slides down the a handrail in front of the UA Associated Students Bookstore on his skateboard. This trick, commonly known as "hot-dogging," is forbidden on the University of Arizona campus.


Hot-dogging, free-styling and curb-riding may become a thing of the past on campus as university officials and student leaders begin to address what they see as a skateboarder "problem."

Campus police Chief Harry Hueston said he has met twice with UA officials and Associated Students President Gilbert Davidson to look at "proactive" solutions to skateboarders that are causing "a safety problem to our community."

Although police have received pedestrian complaints about skateboarders and bicyclists alike, it is the skateboarders who are the main problem, said Hueston, who heads the University of Arizona Police Department.

Hueston attended two meetings in November to address the issue. The closed meetings included Davidson, Risk Management Director Steve Holland and Parking and Transportation Services director Marlis Davis.

"The intent of the meetings is that we're in a process to try to be more proactive regarding skateboarders, pedestrians, bicycles and cars," Hueston said.

Hueston said the problem is those skateboarders who are "hot-dogging," or sliding their skateboards across benches or down hand-rails and jumping over stairs

"Hot-dogging is an illegal type of activity ... they will be arrested," he said.

Citing complaints from handicapped students and other pedestrians, Davis said, "It's not a responsible way of using skateboards."

Adam Weinstein, a psychology and creative writing sophomore, said he is often stopped by campus police for skateboarding.

He said he believes skaters don't cause much property damage and even said he'd pay an upkeep fee and sign a liability form in order to keep skateboarding free of hassle.

Weinstein said police stopped him for "doing grinds" on curbs once in front of the Modern Languages building.

"The officer said he was gonna arrest us and asked if we knew the rule about skateboarding on campus ... all four wheels on the ground at all times," he said.

According to Hueston, the design of certain locations on campus attracts the hot-doggers, many of whom are juveniles or not UA students.

The stairs in front of the UA Associated Students Bookstore are a particular favorite for hot-doggers, Hueston said, adding pedestrians have complained to police after close calls with skateboarders.

He added that the skaters could pose a liability problem if they injure themselves or someone else on campus and that the hot-doggers cause criminal damage to property.

Mike Mencinger, associate director of maintenance for Facilities Management, said damage to campus structures caused by skateboarders is minimal compared to general maintenance and campus upkeep.

"Pigeons are a bigger problem (than skateboarders)," he said. "We pick up more pigeon stuff than we (spend time to) clean up after skateboarders."

Davidson said the meetings were not devised in order to take action against skateboarders.

"Right now, we're trying to address the issue and identify areas on campus that have skateboarding problem," he said.

Weinstein said that nothing will keep him from skateboarding on campus or anywhere else.

"If they start arresting us, I'm not going to stop," he said. "We might as well come to a compromise, because I'm still going to keep on skateboarding."