By James Casey
Arizona Daily Wildcat December 4, 1997

First tracks of the season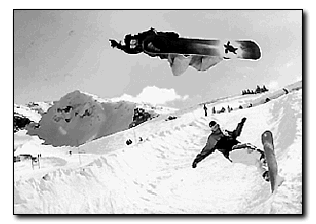 Photo courtesy Max Bervy/Warren Miller Films.
Burton Team riders hit the half-pipe in "Snowriders 2."

If you're a hardcore skier or just like to watch other people take on the slopes, Warren Miller should be a familiar name to you. Miller has written and narrated 48 ski movies, chronicling some of the most death-defying acts to be performed on two sticks. Many of Miller's films have revealed unknown young talents in the ski world and helped bring them to the top. Anybody remember that mohawked nut-case on "MTV Sports?"
Miller made his first film, "Deep and Light," in 1950, with a borrowed camera and has continued ever since. In 1989 he sold his company, Warren Miller Entertainment, to his son, Kurt, and director Peter Speek. Miller is no spring chicken (he's 73 this year) but he still manages to get 140 days of skiing in each year. He's traveled the world making movies in exotic locations such as Bolivia, Alaska, Maui, Kazakstan and New Zealand, and is still striving for the ultimate snow movie.
"Snowriders 2," his latest project, which screens tonight at Centennial Hall, could just be the king of all ski movies, with scenes from all across the globe. Skiing and snowboarding in New Zealand, mountain biking down icy slopes in Blackcomb, dropping hits in Kazakstan, heli-skiing in Alaska, disabled skiiers in British Colombia and a behind-the-scenes look at the ski patrol can be seen in the epic 90-minute film.
Snowboarding plays a larger role in this movie than it has in any of Miller's other productions. The Burton Team riders rip it up in Alaska with appearances from Bryan Iguchi, Johan Olofsson, Victoria Jealouse and Jim Rippey. Johan Olofsson is one of those riders you have to see to believe.
The film is made up of different scenes and sequences, which are slotted together and narrated by Miller himself. The soundtrack for the movie combines different types of music, each chosen for the nature of the segment it accompanies. Big Head Todd and the Monsters, Counting Crows, the Pietasters, the Heaters, the Offspring, Social Distortion and Indigo Girls can be heard backing up the breath-taking stunts and scenery displayed on the big screen.
Skiing and snowboarding aren't the only sports in the film, with "body-bagging," kayaking and windsurfing on the slopes also included. Body-bagging is Los Angeles' answer to sledding and involves zipping oneself into a body bag and sliding down a mountain. This is naturally a pretty dangerous pastime and Miller puts it best when he says, "This is bare-bones snowriding and sometimes broken-bones snowriding."
In addition to the film, there is also the bonus of a free Arizona Snowbowl lift ticket for everyone who attends the screening, offering a chance to give these sports a go yourself.
"Snowriders 2" is showing at Centennial Hall tonight only, at 8. Tickets are available at Dillard's, Peter Glenn Ski and Sports and the Centennial Hall box office.