Staff Reports
Arizona Daily Wildcat December 4, 1997

What to do, Where to do it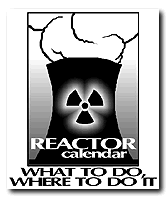 Friday, Dec. 5
There's nothing like a Celtic fiddler to warm the cockles o' yer heart on a cold December day. Martin Hayes will perform with guitarist Dennis Cahill at the Berger Performing Arts Center, located at the Arizona School for the Deaf and Blind, 1200 W. Speedway Blvd. Ireland's Traditional Musician of the Year for 1996, Martin is "among the most elite Irish fiddlers of all time," according to Strings Magazine. Vocalist Connie Dover opens the show with Roger Landes at 8 p.m. Tickets are $14 and $12; call 327-4809.
Beat tomorrow's rush; attend a gallery opening tonight. The mixed media narratives of Michael Longstaff, "Slow Traffic in Stolen Bone," are presented at the Raw Gallery for tonight's opening reception at 7. The Raw Gallery is located at 43 S. Sixth Ave.; call 882-6927 for more information.
The Phunk Junkeez bring their phonetically-challenged brand of alternative music to town tonight at the Cage (5851 E. Speedway Blvd.). Incubus, Dislocated Styles and Know Question open the show, and DJ Wave is purported to be "on the wheels." Tickets are $12 and are on sale at Dillard's, ZIA Records, The Cage and Planet Z Fashions for this all-ages show which starts at 8 p.m. Call 885-3030 for more information.
Saturday, Dec. 6
This just in from information culled from various bulletin boards around town: Jonathan Fire*Eater plays the Senior Ballroom here at the Memorial Student Union Saturday night. Dave's Big Deluxe and the ubiquitous Hipster Daddy-O and the Hand Grenades open the show; there will also be free swing lessons beforehand. It is suggested you get there at 8 p.m. sharp. Tickets are $5 for this all-ages show; call 321-4973 for more information.
Also on Saturday, the Reveille Gay Men's Chorus will perform their annual holiday concert, "A Season for Loving." In addition to offering "something for everyone, including a light-hearted take-off on 'The Nutcracker,'" according to artistic director James H. Gall, there will also be a silent auction of items donated by area artists, businesses and individuals. Tickets are $10 in advance, $12 day of show for the 8 p.m. performance. Call 617-3100 for tickets and more information.
There's a heck of a lot of art going on right now: The Central Arts Collective presents "Stranger in an Amazing Land," Jocelyn Wolf's photographs of India and Nepal, and "Dreams of the Rood," a show of intaglio prints by Gloria Isak-Morton through Dec. 30. Saturday at 7 p.m. there will be an opening reception for these shows. The gallery is located at 188 E. Broadway Blvd.; call 623-5883 for more information.
Another opening reception is also scheduled for Saturday at 7 p.m., this time at the Wingspan Gallery (300 E. Sixth St.) for "Fractured Glamour," a photography show by David E. Franck which also runs through Dec. 30. Call 624-1779 for more information.
And a show of work by photojournalist Inge Morath, "The Pamplona Shoot," rounds out this spate of openings with its opening reception (yep, you guessed it) Saturday at 7 p.m. at the Dinnerware Contemporary Art Gallery, 135 E. Congress St. Call 792-4503 for more information. And if you get there early, there will be a gallery talk with the artist and curator Minnette Burges at 6 p.m.