By Greg Clark
Arizona Daily Wildcat December 8, 1997

Cold front to invade Tucson this week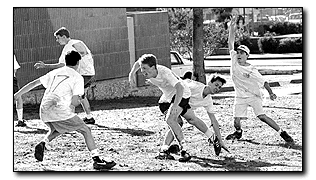 Katherine K. Gardiner
Arizona Daily Wildcat
From left, plant sciences sophomore Brian Gregory, accounting and marketing freshman Matt Beverage, undeclared sophomore Jason Bates and computer engineering sophomore Andy Isles mess around in the mud playing football Sunday afternoon on the lawn across from La Paz Residence Hall. The National Weather Service said the rain has past but temperatures could drop into the 20s.

Tucson residents who spent their weekend under umbrellas may have to trade them in on parkas if a National Weather Service prediction comes true.
Clearing will continue through the week as temperatures drop, with possible freezing temperatures arriving tomorrow and Wednesday nights, said John Glueck of the weather service's Tucson office.
"This is the coldest air mass of the season," Glueck said, expecting lows Thursday morning to drop into the upper 20s.
The weather service forecast calls for a slight chance of showers today, as moist air is pushed southeast in front of a mass of cold air moving in from the Arctic.
The storms that wet Tucson the past two weekends are not necessarily products of the much-discussed El Niño weather pattern, Glueck said.
"It could be the beginning of El Niño, but I'm not ready to say that," Glueck said. "We'll have to wait and see what happens over the next several weeks."
The storms brought more than an inch of rain to the Tucson area in two days, bringing the total precipitation for December to 1.4 inches.
The normal rainfall for December is 1.09 inches, Glueck said.
"We're already above normal for the month and we're only in day seven," he said.
Despite the rain, Tucson is still well below the normal level of 12 inches of precipitation for the year.
"We still need three inches in three weeks just to get to normal and that is very unlikely," Glueck said.
El Niño, a warming of ocean currents moving eastward across the Pacific Ocean, has caused very wet winters in Arizona in each of the 11 years it has occurred since it was recognized in 1914.
In mid-summer this year, meteorologists measured the strongest El Niño on record Glueck said, leading to predictions that this winter would be extremely wet across much of the southern United States.
Marvin Shogren, meteorologist in charge of the weather service's Tucson office, explained in October that El Niño typically causes the major winter storms that cross the central United States to move further to the south.