By Tory Hernandez
Arizona Daily Wildcat December 9, 1997

Likins kamps at student radio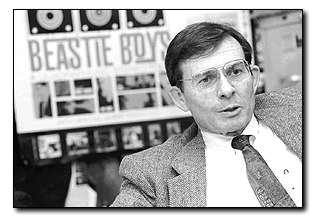 Chris Richards
Arizona Daily Wildcat

UA President Peter Likins answers questions during a KAMP student radio interview yesterday afternoon. Likins was asked about a wide range of subjects, from his background in engineering to his thoughts on the future of the university.


UA President Peter Likins said yesterday that definite plans for an improved Student Union need to be drawn up before he asks for funds from potential contributors - including students.

Likins was a guest on KAMP Student Radio's afternoon news show yesterday and said the Arizona Board of Regents had been receptive to the idea of drawing up architectural plans.

"I have been assured by many of the regents in private conversations that even without voting on conceptual approval I can rely on project initiation to spend funds for developing detailed plans for the Union," Likins said.

During his first trip to the KAMP studio in the Memorial Student Union basement, Likins said there are two future options for the Student Union project:
Renovate the building and bring it up to safety and fire codes, an option which Likins said would be virtually "invisible" to students.

Get a cost estimate on what Likins called the "grand project:" Spending between $60 million and $70 million to renovate the current Student Union.
"If we do this, others will get to see what they will receive in return for the money we hope to extract from them," Likins said, "and by others I mean vendors in the Union, benefactors and possibly students."
Students voted last month against spending $80 per year to fund Student Union renovations.
Likins added it was important for students to realize if they are asked to contribute to the project again, a no vote would mean a no for the Student Union.
"Students need to understand there is nowhere else for us to get money," he said. "I have been in this business for a long time and you can't fund raise $60 million or even $30 million, but can you do $10 million?"
Likins assured listeners that students would be involved in the next planning stages of the project, whatever they turn out to be.
"No one in their right mind would design a Student Union without student input," he said. "Students have been involved in this from the beginning and have been central to programmatic decision making. That will continue."
Likins stressed that potential benefactors must be convinced students consider the project consequential.
"The alumni have to believe it's important to students," he added, "and the previous referendum presents a problem to us, when we go to ask alumni for money."
Likins also responded to questions about the pending deal between athletic apparel giant Nike and the UA athletic department.
"There is no level of revenue that would justify this university's partnership with a company that participated in the behavior that has sometimes been alleged to be done by Nike," he said. "If I were not convinced by Nike management and Nike representatives that those things weren't happening, then I would say we shouldn't do business with them."
Likins said he believed Nike had responded to possibly true allegations and shut down many factories and partnerships with sub-contractors who were violating the published code of behavior.
"I do not mean to say the moral issues are irrelevant," he said, "but I think the contract could be a good and positive thing for the university."