Staff Reports
Arizona Daily Wildcat January 15, 1998

What to Do, Where to do it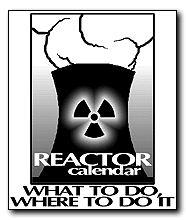 ART OPENINGS ON CAMPUS
"Hindsight" continues at the Joseph Gross Gallery through Feb. 19. Works by Julie Hefferman, Kevin Irvin, Kathleen Jesse, Leslie Lerner and others are thematically linked as "Contemporary Painting and Sculpture Referencing Art History." Gallery hours are Monday-Friday, 10 a.m. to 5 p.m.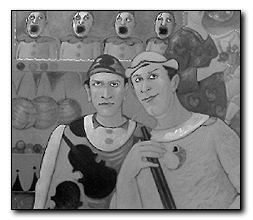 Arizona Daily Wildcat
"Welcome to my show" by Paula Wittner
Paula Wittner's Paintings are on display in the Union Gallery, on the 1st floor of the Student Union, through Feb. 26. A reception for Wittner will be held in the gallery on Friday from 5 p.m. to 7 p.m. Gallery hours are Monday-Friday, 10 a.m. to 4 p.m.
"Sleep In" is the title of an exhibition of Eddie Shea's recent paintings, and a suggestion to which most of us would happily comply. Shea's work is on display in the Arizona Gallery through March 12. Gallery hours are Monday-Sunday, 8 a.m. to 10 p.m.
Special Events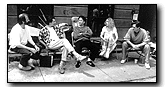 Gallagher Theatre hosts three offerings from the 7th Annual Jewish Film Festival, presented by the Tucson Jewish Community Center. Screenings include "A Day in October," starring D.B. Sweeney, Saturday, Jan. 17 at 7:30 p.m. and "Substance of Fire," starring Timothy Hutton, Ron Rifkin and Sarah Jessica Parker, Sunday, Jan. 18 at 7:30 p.m.. Two Israeli films "No Names on the Door," and "Minotaur," are also included in the festival. "No Names" screens Monday, Jan. 19 at 7:30 p.m.; "Minotaur," on Tuesday, Jan. 20 at 7:30 p.m. Tickets are $2.50 for students with ID. For more information on other venues highlighting the Jewish Film Festival, call 299-3000.
Thursday, January 15
Borderlands Theater presents a preview of "A Couple of Blaguards" tonight at the Tucson Center for the Performing Arts, 408 S. 6th Ave. The play tells the story of Frank and Malachy McCourt, two lads from Limerick who sing songs, tell stories and act out skits, pulling pints of Guiness all the while. "Blaguards" is the forerunner to Frank McCourt's bestselling novel, "Angela's Ashes." Those who don't enjoy the play are invited to kiss a blarney stone. Tonight's preview begins at 8 p.m., and regular performances follow Friday and Saturday at 8 p.m.; Sunday at 2 p.m. and 7:30 p.m.; Wednesday and Thursday at 8 p.m., through Jan. 25. Phone 882-7406 for more info.
All those Slim-Fast commercials making you feel a little guilty about that holiday blubber? Forget the treadmill for one night and join the Pima Arts Council in a real life ArtWalk around the numerous galleries in the Downtown Tucson Arts District. Galleries are open until 7 p.m. tonight, so get out your walking shoes. Phone 624-9977 for more info.
Friday, January 16
Club Congress is host to the familiar sounds of the Sand Rubies (in another life, known as the Sidewinders). Slobberbone and The Sunkings open the show at 9 p.m. and the cover is $4. While visiting the lovely Hotel Congress, don't forget to check out the cool John Dillinger shrine in the upstairs lounge. Phone 622-8848 for more info.
Opera! Ballet! Symphony! Three of your favorite words, we know. Ballet Arizona, Arizona Opera and The Phoenix Symphony collaborate for the first time on "La Gioconda", a story of danger, beauty, and of course, l'amour. The work is sung in Italian, but English subtitles are provided for the language-impaired. Performances are at 7:30 p.m. Friday and Saturday, and 2 p.m. on Sunday at the Tucson Convention Center Music Hall, 260 S. Church. Cheap seats are $14 and $15. For ticket info, call 293-4336.
Saturday, January 17
Pima Community College hosts a special showcase at tonight's Downtown Saturday Night, from 7 p.m. to 10 p.m. in the Downtown Rondstadt Center. Musical performances, art displays, student film screenings and an interpretative sign language performance are among the festivities. Most intriguing of all are the "high tech" computer demonstrations of artificial intelligence, just in time for the new semester. Phone 624-9977 for more.
"The Heiress", a Tony Award-winning play based on Henry James' novel "Washington Square," opens today with performances at 2 p.m. and 8 p.m. This production from the Arizona Theatre Company continues through Saturday, Jan. 31 at the historic Temple of Music and Art, 330 S. Scott Ave. Tickets are $18.50-$27.50, though $10 Student Rush tickets are available one hour prior to showtime. Phone 622-2823 for ticket info., or 884-4877 for general information.
Sunday, January 18
Sunday Jazz Jams return after a twelve year hiatus, courtesy of the Tucson Jazz Society. Tonight the Mike Eckroth Combo leads an evening of improvised "jamming" at the Cottonwood Club in the Cottonwood Cafe, 60 N. Alvernon Way. Showtime is 7 p.m. and admission is $4, but musicians who come ready to play are admitted for free. By the way, there is a one drink minimum. As if we needed to mention it. Phone 743-3399 for more.
Tuesday, January 20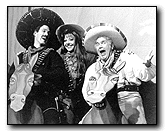 Those zany folks at the Gaslight Theatre present their latest offering, "The Cisco Kid." A wild west musical melodrama, "Cisco" will have the audience oohing and aahing to the tunes of a live western band while stuffing their mouths with free popcorn. Performances are Wednesday through Sunday at 7 p.m., with a Sunday matinee at 3 p.m. Double performances Friday and Saturday night provide a chance to see the show two times in a row, at 7 and 9:30 p.m. Student tickets are $10.95, available at the Gaslight, 7010 E. Broadway. Phone 886-9428 for more.
Wednesday, January 21
More culture comin' at you tonight as UApresents and the New York City Opera National Company present Donizetti's "The Daughter of the Regiment" at Centennial Hall, tonight at 7:30 p.m. Tickets are $29/$36/$45, half-priced for students with ID and those under 18. Phone 621-3341 for ticket info.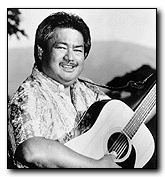 You may not have heard of Hawaiian Slack Key Guitar, but you're no doubt familiar with the dobro and lap steel guitar, two instruments influenced by this loose-stringed style played by Hawaiian paniolos. Tonight, three of Hawaii's finest players bring their guitar stylings to the mainland, with a special performance at the Berger Performing Arts Center, 1200 W. Speedway at the Arizona State School for the Deaf and Blind. Showtime is 7:30 p.m. Tickets are $15/$17. Phone 327-4809 for more info.