By Biray Alsac
Arizona Daily Wildcat January 15, 1998

The word at Centennial Hall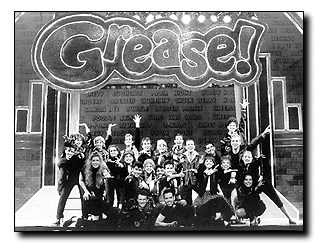 Arizona Daily Wildcat

Photo courtesy of The Troika Organization The Rydell High Class of 1959, always together in "Grease!" The classic musical rocks Centennial Hall this weekend.


All right, all you "Grease!" fans, get ready to rock and roll, old-school style, as UApresents brings the acclaimed musical to Tucson's very own Centennial Hall this weekend.

The tour stop of one of Broadway's longest running musicals includes two evening performances and one matinee on Jan. 16 and 17.

What could be more exciting than an evening of swinging tunes, torn jeans, leather jackets and slicked hair?

Alas, John Travolta and Olivia Newton-John are not featured in this version.

The company does include a variety of talented actors: Country recording artist Kent Sheridan plays the role of Danny Zuko and Lori Ann Strunk appears as Sandra Dee (without the Australian accent, of course).

The familiar, catchy tunes like "Summer Nights," "Greased Lightning," "We Go Together" and the comical "Look at Me, I'm Sandra Dee" will invade the auditorium.

The musical contains additional songs not featured in the infamous film, which was based on the stage production.

Those fans who were "born to hand jive" will be able to learn more about musical theater and the 1950s during free "Arts Encounters" presentations 45 minutes before each performance.

Donnalee Dox of the UA Theater Arts faculty will discuss musical theater in the Douglass Building, Room 101, Jan. 16 and 17 at 7:15 p.m. Ron Lancaster of "Tellers of Tales" will share some stories about the 1950s before the matinee performance on Jan. 17 at 1:15pm on the Centennial Hall West Patio.

It looks like 1998 will be the year when "Grease!" fever once again spreads to many "hopelessly devoted" fans and infects another generation of teenagers.

The Travolta/Newton-John classic movie celebrates its 20th anniversary this year. The film will be revived, ditigized and re-released sometime this year. (Hide while you still can, before the "Grease! Megamix" invades your radio again.)

All tickets are half-price for students with ID and people 18 and under. For more information, contact the Centennial Hall Box Office at 621-3341, today and Friday, 10 a.m. to 5 p.m., or Saturday, noon to 5 p.m.