By Susan Carroll
Arizona Daily Wildcat January 20, 1998

UA president honors King, promotes unity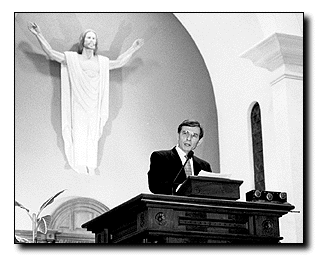 Dan Hoffman
Arizona Daily Wildcat

UA president Peter Likins speaks at the remembrance service for the Rev. Dr. Martin Luther King, Jr. at St. Augustine Cathedral Sunday night. The ceremony included a number of performances and speakers from the Tucson community.


UA President Peter Likins paid respect to Martin Luther King Jr. Sunday by telling listeners at St. Augustine's Cathedral to focus on their similarities instead of their differences.

"Let's celebrate all the ways we are the same," Likins said to hundreds of listeners lining the pews. "I've attended many celebrations for Dr. Martin Luther King in the past. Frankly, it is usually just the black community, but here, it's everyone."

Likins, speaking in an Interfaith Commemoration at the cathedral, 192 S. Stone Ave., promoted community unity in the vision of the late civil rights leader.

The culturally diverse service included Yiddish chanting, mariachi music and the soulful vocals of a fifth-grade teacher.

In his speech, Likins said he wanted to promote community unity through cultural diversity. He said his teaching focused on respecting and appreciating cultural differences until a student voiced her opinion while he was teaching a seminar in Pennsylvania.

Likins said the student pointed out that the class only focused on the characteristics that made cultures different.

"In our zeal to appreciate the differences between cultures, we lost perspective of what we have in common," he said.

Likins also presented a clear vision of the 21st century.

"America will be a very different place in 50 years," he said. "The foundation must be based on community unity."

Likins, who raised an interracial family including six adopted children, is accustomed to crossing cultural boundaries.

He sometimes forgets, however, that his family is interracial.

"My wife and I went through our lives with a family," Likins said.

Tucson resident Gail Benton, 40, said Likins' interracial adoption was what impressed her most.

"They must really believe what they're saying because they're living it," she said.

Jessica Weinberg, an anthropology and cultural linguistics graduate student, said she enjoyed Likins' speech.

"He's a new president - in effect, a new era," she said. "I hope he'd take advantage of the opportunity to correct things."

Tucson Mayor George Miller, who sat near the back of the cathedral with his wife, said it is important to recognize King's societal contributions.

"We do need to celebrate his birthday as one of the great Americans of all time, " he said.

Likins said he enjoys the way different cultures in Tucson work together.

"I thought it was a wonderful gathering of the peoples of Tucson," he said.