By Bryon Wells
Arizona Daily Wildcat January 21, 1998

ZBT violates policies, loses recognition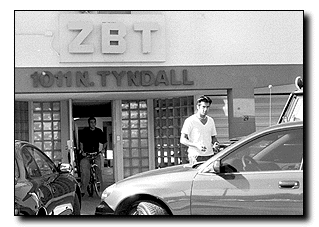 Leigh-Anne Brown
Arizona Daily Wildcat

Marketing sophomore Ali Fatourechi (right) and undecided freshman Jeff Goldman hang out at the Zeta Beta Tau fraternity house yesterday. The house has had its chapter recognition withdrawn on charges of violating the UA Code of Conduct.


The dean of students last month revoked recognition of Zeta Beta Tau's UA chapter for at least two years, citing violations of GAMMA party management policies.

Bob Gordon, the UA's coordinator of Greek Life programs, said the fraternity violated GAMMA risk management policies regarding social events.

The violations stemmed from two complaints to the Dean of Students' Office, both having to do with GAMMA's "open party" policy, he said.

GAMMA - Greeks Advocating the Mature Management of Alcohol - is a peer organization that regulates the use of alcohol in fraternities and sororities.

The first violation came from a complaint that the fraternity passed out fliers to advertise a party, Gordon said.

That violates GAMMA policy because fraternity parties are not "open" and guest lists are created to keep out "uninvited guests," Gordon said.

The second violation was in connection with an off campus party the fraternity hosted in which ZBT was again accused of throwing an open party, Gordon said.

The accusations went before the Greek Judicial Board, another peer group, he said.

Based on the Judicial Board's review, the Dean of Students' Office censured ZBT Dec. 18, said Dean of Students Melissa Vito.

ZBT had been on probation since January 1997 for other GAMMA policy violations, Vito said.

"One of those violations had to do with someone throwing an explosive device into their swimming pool," she said.

Gordon said the recent GAMMA violations broke the terms of ZBT's probation.

The fraternity is appealing the latest decision, Vito added.

As a result of the decision, ZBT lost its recognition as a student organization and no longer has the privileges of an on campus student organization, Gordon said.

The national ZBT headquarters, however, has not revoked the UA chapter's charter, and since the fraternity house is privately owned and located off campus, the university cannot shut the house down, Gordon said.

"They are able to function as a fraternity off campus; they may not function as a fraternity on campus," he said.

Brian Szatkowski, Interfraternity Council vice president of public relations, said the outcome of ZBT's appeal will be known in two to three weeks.

"I hope they win," he said. "I feel that ZBT has been a valuable chapter on the UA campus for a long time."

Jeff Fields, vice president of ZBT's UA chapter, would not comment on the specific nature of the violations but said, "ZBT is still a fraternity."

"ZBT will still have Rush," Fields said. "ZBT will still go forward."

Gordon said the fraternity is still allowed to recruit new members off campus.