By Biray Alsac
Arizona Daily Wildcat September 4, 1997

Life Connection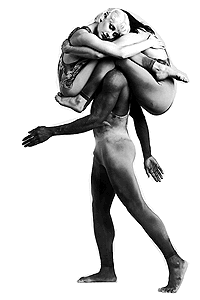 In conjunction with its "Connect to Life" theme, this season UApresents is once again bringing a hand-picked variety of colorful performances dealing with all aspects of the performing arts.

Performances by Houston Ballet in Tchaikovsky's Swan Lake, touring company of Grease, Philip Glass' and Susan Marshall's multi-media dance-opera spectacle, Pilobolus (modern dance acrobats) and Tango x 2, are just some that may appeal to the college crowd.

Ken Foster, Director of UApresents, said he is aware of these financial concerns.

"Our objective is to be more available to the students," said Foster.

About three years ago, less than 5 percent of the student body attended performances at Centennial Hall, Foster said. He said it seemed that most of the performances appealed to the Tucson community more than anyone else. In order to entice college students, Foster said UApresents added more variety to their programming and introduced the student rush ticket policy.

Implemented two years ago, student rush allowed students to see performances at a much lower cost. One could buy a $7 ticket to any remaining B or C seats 45 minutes before the show. This policy increased student attendance to 25 to 30 percent.

"We now have the attention of the students we didn't have 3 to 4 years ago," Foster said.

Unfortunately student rush didn't meet the needs of all students.

"I'm not the kind of person that would wait 45 minutes before a show anyway," said Kristina Schneider, mechanics engineering sophomore.

Foster said sometimes shows would be sold out and tickets wouldn't be available at the discount price, or seats would be so far back in the C section that the show wasn't even worth watching. Sometimes certain productions just didn't allow the sale of student rush tickets.

"This became demeaning to both the students and the artist," said Foster.

This year, students can buy any ticket for any show for only half price and the B and C sections have been increased so more seats can be available at the lower price. The half price deal only works for performances in the UApresents program. Independent promoters who bring in shows like STOMP (who will probably come in January) will be exempt from this deal.

"Students just want what everyone else wants, to pay whenever and sit wherever they wish," said Foster.

Students were both positive and skeptical

"It's better this way, now you will have your seat ahead of time," said Michelle Amaya, biology sophomore. Students also have the option of purchasing tickets with their pocket money.

Lyla Grady, creative writing senior, said, "Sounds beneficial, but will it work?"

The Centennial Hall Box office is open Monday through Friday from 10 a.m. to 5 p.m. and Saturdays from noon to 5 p.m. Call 621-3341 or visit the Internet at uapresents.arizona.edu for more information.