By Fen Hsiao
Arizona Daily Wildcat September 4, 1997

What's The Big Deal? The Kelley Deal 6000, Of Course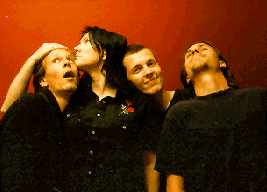 Photo courtesy of Nice Records
Kelley Deal and the Kelley Deal 6000.

In the midst of their on/off three month tour, the Kelley Deal 6000 stopped off at Tucson's Club Congress on Tuesday night in support of their second album Boom! Boom! Boom! (Nice Records), where I had a chance to speak with leader Kelley Deal, guitarist Todd Mund, and bassist Marty Nedich. Surprisingly down to earth, whole milk drinkers, the band talked of hoping to one day consistently sell out clubs, although they gawked at the thought of playing coliseums.
GZ: How do the songs in Boom! Boom! Boom! vary in style and content from those in your debut album?
KD: The first record, to me, was more claustrophobic. In a good way. The feeling of it was really stifling, and that was good. That's what I wanted to get across in the songs. And I wanted [Boom!] to be more of a (stands up with arms bent, fists on hips) superhero record. Whatever that means? I guess more outgoing, not as introverted.
GZ: What was behind those differences?
KD: The shirt that I found at a thrift store. It was black and it had five diamonds going down the side, and I just thought Boom! Boom! Boom! I'm so serious!
GZ: What's more important to you: the lyrics or the music? Do you want listeners to take the lyrics as you give them or make their own interpretations?
KD: For me that's a control issue. Once I put them out there, they can do whatever they want.
MN: I don't even know what all of the lyrics are.
TJ: That's okay, neither does Kelley.
GZ: How much of your current musical involvement do you credit to past musical experiences?
KD: I really look up to Kim (Kelley's sister and bandmate in the Breeders). She was one of my examples. Same with Kim Gordon of Sonic Youth - she was another strong, happening female who I respected and saw that they did their own thing
TM: Actually, I never played the guitar before this band.
GZ: To what extent does each member contribute to the song writing?
KD: Todd, the drummer, pretty much writes everything. (Laughter) He's just been going through a thing where we just have to say that, OK? We just wink at each other. It just all comes down to the drums, all right? No, I mean, for "Confidence Girl" I couldn't finish it, so I gave it to Todd and Marty and I was thinking `God, who knows what's gonna happen because Todd's really into metal and Marty's really into house/dance music. But I got it back and there was a great song. I write all the vocals and the melody lines.
GZ: So, what's your reaction when people refer to the band as "Kelley's?"
TM: As what? It isn't, I don't think.
GZ: Would it surprise you if I had heard it referred to that way?
TM: Well, it is Kelley's band, really.
KD: There! You got that on tape. I think that's fine.
GZ: What was your first project for Nice Records (Deal's label)?
KD: The debut album. I didn't think anybody would want to put it out. I wasn't even the singer from the Breeders - I was the singer's sister. There's a project coming out called the "Last Hard Men," which is me, Sebastian Bach from Skid Row, Jimmy Chamberlain from the Smashing Pumpkins, and Jimmy from the Frogs.
GZ: What albums are being played in the RV the most on tour?
TM: We're not allowed to listen to music out loud. We have to listen to them on headphones. Because Kelley likes country and the mambo stuff. Marty likes house music. Todd listens to (Jimmy) Buffet.
KD: But Todd put on a Johnny Cash tape and I was like 'nice'. We all like Johnny Cash
TM: Both me and Marty can agree on Motley Crue.
KD: Hey, are you double jointed?
GZ: Yeah! (I bend my arms backwards)
All: Wow! (Claps)
KD: Do that again!