By Erin McCusker
Arizona Daily Wildcat September 4, 1997

Campus Christian Center changes spirituality program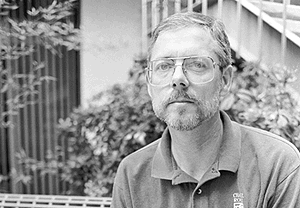 Brian D. Rothschild
Arizona Daily Wildcat

The Rev. Allen Breckenridge, one of the coordinators of the Canterbury Tracing the Roots of Spirituality club, helps organize various spirituality workshops. Although the club meetings are held at the Campus Christian Center, students from all or no religious groups are welcome to share in discussions of spirituality.


The Campus Christian Center has changed its program in spirituality in an effort to enlighten UA students about the different religions that are practiced around the globe.

Although the Canterbury Tracing the Roots of Spirituality club is affiliated with the Episcopal Campus Ministry at the UA, the group is open to students from all religious backgrounds.

The Canterbury program has been a University of Arizona club for about 50 years, but this semester expanded to include a wider variety of spiritual theories, said the Rev. Allen Breckenridge, an Episcopal minister at the Campus Christian Center and one of the coordinators of Canterbury.

"We are trying to introduce students to a wide range of different ideas about what spirituality is," said Chris Eastoe, a member of the board of directors for the campus ministry at the Episcopal Center.

A panel comprised of students and adults affiliated with the center met over the summer and decided the programs for the Canterbury group, Eastoe said.

This year's program includes yoga, Anglican spirituality, Hopi faith and a full-moon hike with an outdoor worship service. One program that Eastoe said he was excited about was the Spirituality of Santeria, a Mexican folk religion.

Canterbury, which averages 15 to 20 members, holds weekly meetings at the Campus Christian Center, 715 N. Park Ave., which focus on different styles of worship, everything from medieval spirituality to Islamic religion. About 10 members met last Thursday to watch the movie, "Leaving Normal."

The spirituality programs cost nothing for students, but Canterbury leaders ask for a small donation to fund a supper preceding the weekly program.

Breckenridge said the Canterbury program offers students a club that does not require membership.

"It's an opportunity for students to interact with people of different religions," Breckenridge said. "It's an environment safe for all different types of religion."

UA students show a great interest in spiritual matters as a whole, but most students are turned off by the idea of belonging to a church, Eastoe said.

"I think any religion, no matter how close it is to the truth, gives people faith and in that sense all religion is good. All religion has certain truths," said Joe Criscuola, an undeclared sophomore who was raised in the Catholic religion.

Molly Ball, a Spanish and molecular and cellular biology freshman, said the group could be beneficial, but her spirituality is not something she usually shares.

"Religion is a very personal thing and I don't agree with anything that tries to convert you. I've kind of created my own idea of what religion should be. It's wrong to assume that one religion is better than another," Ball said.

Breckenridge said spirituality can help one become a well-rounded, healthy person.

"My personal view is that God's hand has been at work through all cultures. The more you look around at the world, the more you learn about culture and different ways of life," Breckenridge said.

John Randles, a sociology senior and religious studies minor, said his perspective on religion broadened after he spent six years stationed in Turkey while in the Air Force. "Since I've gone back to school, my personal living has changed. I was raised Catholic, and it's not like I'm more or less Catholic now; I've just been exposed to different religions. Ignorance gets you no where. The more you learn, the more you can respect other religions," Randles said.

Tonight the Canterbury group will have dinner at 6 p.m., and then will watch the second part of "Leaving Normal" followed by a discussion.