By Craig Degel
Arizona Daily Wildcat January 23, 1998

Wildcats continue to cruise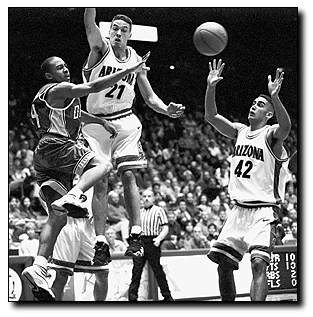 Charles C. Labenz
Arizona Daily Wildcat

UA junior center A.J. Bramlett (42) and UA senior forward Bennett Davison (21) swarm the ball in the second half of last nights game against Oregon at the McKale Center. UA went on to an easy win 87-57.


It was a 6:37 start but last night's 87-57 Arizona win at McKale Center felt more like a breakfast meeting.

Oregon coach Ernie Kent said his team was "flat as a pancake" but he should have been more concerned about the donut still under his team's name on the scoreboard five and a half minutes into the game. The Wildcats started the contest on a 15-0 run and held the Ducks to just one point until the 13:52 mark when Jonathan Nelson finally got their first field goal.

"We were flat and dead," Kent said. "There's nothing I can do about this. We played just horrible."

Consider the numbers at the half:
The Ducks turned the ball over 15 times compared to the Wildcats' 10.

Oregon shot a paltry 24 percent from the floor in the first half and was a miserable 1 for 9 from beyond the three-point line. The sixth-ranked Wildcats shot 60 percent despite hitting just three field goals in the final in 10 minutes of the half.

The Ducks committed 13 fouls in the first half, putting Arizona in the bonus with 13:38 left in the half. That allowed the Wildcats to get to the free throw line on numerous occasions where they capitalized by hitting 15 of 20.
"You don't even need to look at the tape," Kent said. "The game was so horrible and poorly played by us. I don't have a lot of answers right now."
For the third time in as many games, the Wildcats (16-3 overall, 7-0 in the Pacific 10 Conference) put the game out of reach before halftime. On their current nine-game winning streak, UA is beating opponents by an average of 22 points.
"It seems like right now we're putting teams away early and that's good," Arizona senior Miles Simon said. "It's hard for teams to come back because we're going to put up numbers."
In a season where it seems that each game a different perimeter player shines for the Wildcats, last night was Simon's turn. The senior guard scored 16 of his 20 points in the first half. He added four points and three rebounds before the final buzzer sounded.
"These are the games I didn't get up for last year," Simon said. "Now, you have to be psyched up because a team like this, they're definitely up for us."
Arizona head coach Lute Olson said that as one of the Wildcats' leaders, Simon needs to be pumped for all games.
"Miles knows he's the real key for us," Olson said. "If he's not up and ready it's not going to effect just him but the rest of the guys as well."
Arizona senior Michael Dickerson scored 13 points, moving ahead of Sean Rooks for eighth place on the UA career scoring list. A.J. Bramlett and Bennett Davison contributed six and seven points respectively. Eugene Edgerson had 11 points off the bench. Donnell Harris scored just one point but tied a career-high with three blocked shots.
The 15-0 run to start the game translated to a 29-7 lead after a Simon's three-pointer with 10:07 remaining in the first half. The Wildcats then took a 25-point lead into the locker room. Meanwhile, the 14, 538 in attendance were beginning to think about making it home in time to catch "Seinfeld."
"We're in a flow and we don't want to get out of that flow," Arizona sophomore Eugene Edgerson said.
If the game bared a striking resemblance to UA's 89-70 victory over New Mexico Saturday, that's because the Lobos and the Ducks (7-9, 2-6) are basically the same type of team.
"(Oregon) was just a clone of New Mexico," Edgerson said. "So we were very prepared."
Oregon State, fresh off its first conference win - last night's 70-61 triumph over Arizona State in Tempe last night - visits McKale Saturday.