By Chris Jackson
Arizona Daily Wildcat January 23, 1998

UA offensive hopes to roll on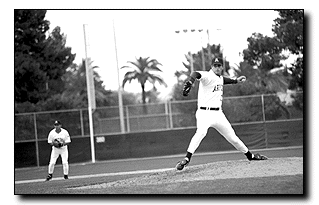 Ian Mayer
Arizona Daily Wildcat

Sophomore left-hander Tony Milo fires one home in Tuesday's 15-12 victory over Cal-State Northridge. The Wildcats start a three game series against the University of San Diego Toreros at Frank Sancet Field beginning today at 3 p.m.


The Arizona baseball team flaunted its hitting skills in a two-game annihilation of Cal-State Northridge on Tuesday and Wednesday.

The No. 24 Wildcats (2-0) scored 33 runs in two days on 33 hits.

The good times may be over, however, as the San Diego Toreros come to town this afternoon for a three-game series.

Today's game starts at 3 p.m. at Frank Sancet Field.

While the Toreros (25-27-2 in 1997) may not inspire much fear based on the fact that they are a Division II team that had a losing record last year, their pitching staff is one of the best in the country.

The fourth best to be exact.

San Diego's pitchers combined for a 3.91 team ERA last season.

"They had a terrific pitching staff last year," Arizona head coach Jerry Stitt said. "We're going to have to be at the top of our game to beat them."

As strong as the Toreros' pitchers were last season, they face an Arizona offense that simply obliterated Northridge.

Leading the charge in the pair of wins was senior second baseman Erik Mattern, who scored eight runs on 7-of-9 hitting, including two doubles, a triple and a three-run homer.

"I'm glad we had these two games before San Diego," Mattern said. "We needed them to get everything working before facing their pitching staff."

Other big hitters for the Wildcats in the Northridge series were first baseman Kenny Corley (3 for 7, three RBI, one homer), third baseman Omar Moraga (4 for 8, four RBI, one homer) and right fielder Colin Porter (4 for 8, six RBI, one homer).

Junior right-hander Darrell Hussman (4-8, 5.60 ERA in 1997) takes the mound for the Wildcats in the opener. Hussman was recently ranked the 32nd-best collegiate prospect in the nation by Baseball America magazine.

Following Hussman onto the mound this weekend will be junior James Johnson (0-0, 6.75) and sophomore Tony Milo (1-0, 5.40).

The Wildcats and Toreros are meeting for the first time ever, though they do have a common opponent in Northridge. San Diego whipped the Matadors 11-0 last season when Northridge was ranked No. 22 in the nation.

The Wildcats and Toreros play on Saturday at 1 p.m. and on Sunday at noon. The Sunday game was moved up one hour because of the UA-Oregon State basketball game and the Super Bowl.