By Michael Jacobs
Arizona Daily Wildcat January 23, 1998

Women's tennis opens home season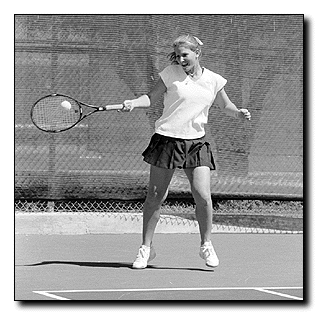 Wildcat File Photo
Arizona Daily Wildcat

UA senior Betsy Miringoff hopes to be back up to par after the back injury she suffered at the end of last season. The Wildcats will compete in the 1998 Tucson Invitational this weekend at the Robson Tennis Center.


As the men venture to the California desert this weekend to begin its nonconference schedule, the women will be at the Robson Tennis Center to open their home season in the Wildcat Tennis Invitational.

Texas Christian, Tulsa and ninth-ranked Mississippi will be on hand to challenge No. 23 Arizona.

"I may be more confident playing at home, but I'm going to go in with exactly the same mental attitude," freshman Michelle Gough said. "We just want to try to win all our matches. 'Ole Miss may be the stronger team coming in, but we will approach each team with the same mindset."

"Playing at home is not a really important factor, but it's really fun because your friends and roommates come out and cheer you on," Betsy Miringoff added. "We were really disappointed with our (No. 24) ranking at the beginning of the year and couldn't get a higher ranking because we didn't have a full team."

UA senior Vicky Maes hopes to counteract her opponents with stronger play after last weekend's quarterfinal loss at the Pacific 10 Conference Indoor's.

"We developed a good team feeling in Seattle, so the motivational aspect from the new players will definitely be a bonus," Maes said. "We definitely have to work hard to improve on our individual performances to bounce back."

Assistant coach Courtland Gettel views the competition as an opportunity to pick up some early non-conference victories.

"The goal this weekend is to sweep and I think we have a chance to do that," Gettel said. "There's a lot of ground for improvement. It was good to see the team come together last weekend in Seattle, but everyone on the team has things they can work on."

Meanwhile, UA's men's coach Bill Wright, entering his 12th year in the corner, hopes to improve on a 5-16 record last year, which included an 0-10 conference mark.

The No. 61 Wildcats will face the No. 44 Aztecs from San Diego State at the College of the Desert, in Palm Springs, Calif., in their first regular season bout.

Saturday, Arizona takes on the College of the Desert Roadrunners in an exhibition match.