By Bryan Rosenbaum
Arizona Daily Wildcat January 23, 1998

Swimmers ready to make waves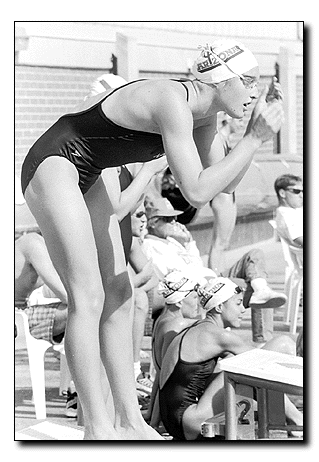 Wildcat File Photo
Arizona Daily Wildcat

Sophomore Trina Jackson returned from the World Championships in Australia earlier this week and is expected to boost Arizona's scores in the Wildcat's meet against Stanford today in California.


The UA swimming and diving teams face their biggest dual meet of the season today in Northern California as they take on Stanford's top-ranked men and women's teams.

The fifth-ranked women and ninth-ranked men head into the Pacific-10 Conference meet with some strong performances behind them, but will need a near-miracle performance to upset the Cardinal.

"We don't have enough depth to defeat them in a dual meet, but maybe in the big meets because there's not as many swimmers in them," UA head coach Frank Busch said.

They meet Cal Saturday.

"We should be able to compete better with California," Busch said. "We have very similar teams and strengths."

Some of UA's best swimmers are physically and mentally tired from training at the World Championships in Australia.

Busch and swimmers Ryk Neethling and Trina Jackson, both sophomores, and freshman Lindsay Farella returned from the competition earlier this week. They missed last weekend's meet against Northern Arizona. All are suffering from jet lag and said they have had little or no sleep since they returned Monday night.

"I'm exhausted from the trip. Turning around and going on another one will be rough," Busch said.

Arizona will once again be competing without a pair of All-Americans. Senior Shannon Hosack, who won three individual races and a relay against the Lumberjacks, and Matt Allen are both out due to illness.

Jackson and Farella's return should help replace Hosack and sophomore diver Adrian David. David's diving score of 347.10 in last weekend's meet was a Hillenbrand Aquatic Center record.

Leading the improving Arizona men will be seniors Chris Counts and Glenn Flint. Counts owns the nation's fastest time in the 200-meter individual medley and, last weekend, Flint won the 1,650 free and 200 breaststroke.

NCAA and Pac-10 powerhouse Stanford are led by a dynamite pair of NCAA Champion seniors, Tom Wilkens and Sabir Muhammad on the 3-0 men's side. Wilkens holds the nation's second-fastest breaststroke time.

The women's team is also 3-0 and are led by sophomore Catherine Fox, a three-time NCAA champion who holds nation's fastest time in the 100 backstroke.

The Cal match should be entertaining because the squads are more evenly matched.

The No. 14 men's team features senior Bart Siorka. Siorka is ranked in the nation's top-five in six different events. The eighth-ranked women are led by junior Marylyn Chiang. Chiang is ranked in the nation's top 25 in five different events.