By Mary Fan
Arizona Daily Wildcat January 26, 1998

Shooting under the pale yellow lights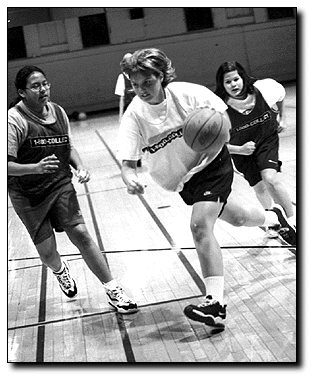 Leigh-Anne Brown
Arizona Daily Wildcat

Jenna Young, 11, dribbles through two defenders at the ASUA-RHA Little League Basketball tryouts. Last Saturday boys and girls in grades 5-8 tried out for their team placement at Bear Down gym.


The Saturday morning sun was rising behind Bear Down Gym when the children came to the UA campus for basketball tryouts.

They were fifth-, sixth-, seventh- and eighth-grade boys and girls looking for spots on the third-annual ASUA-RHA Basketball League's teams.

Ashleigh Russell, 12, traveled from Marana to shoot, pass and dribble her way onto a fifth- and sixth-grade girls' team.

"We saw it in the paper and just decided to come," she said. "I've played for too long to count."

The children, who are playing the game they love, are also being exposed to the college environment, said Associated Students Sen. Morgan Long, organizer of the league.

"The goal of the league is to encourage the pursuit of higher education through the medium of sports," Long said. "They become familiarized and college is no longer as intimidating."

While participating in the league, the children listen to basketball role models talk about higher education. Last year, Josh Pastner, a point guard on the University of Arizona's men's basketball team, spoke to the players.

The League is free - made possible by donations and volunteers. The referees and a Student Recreation Center official, who monitors the children as they play and practice, are the only people paid.

Chris Mundt, a chemical engineering junior, volunteers as a coach.

"My buddy Danny asked me if I wanted to help and I thought it would be a good thing to help these kids out," he said.

"A lot of the volunteers worked last year - they're pretty faithful," Long said.

The league's 24 teams are ordered by sex and grade-level.

Beginning next week, the teams will battle for top-division honors. At the end of the season, the children will play four championship games at McKale Center.

ASUA and the Residence Hall Association each donated $2,000 to the program. The Tucson Conquistadors, car dealer Jim Click and Arizona Bank also chipped in.

"They like the good things they get out of the league in return," Long said.

Kimberly Roberson, 11, said she just wants to play basketball.

With a ball borrowed from the Rec Center, she shot free throws under Bear Down's pale yellow lights.

Kimberly's sister Jalee, 9, watched intently from the sidelines. Jalee said one day, like her sister, she wants to be the one shooting under the lights.