By Bryon Wells
Arizona Daily Wildcat February 2, 1998

Weekend rally protests 150-year-old treaty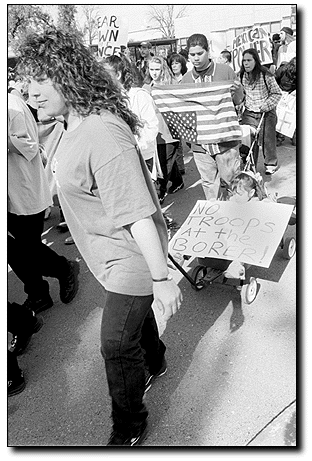 Dan Hoffman
Arizona Daily Wildcat

Activists march Saturday morning at Pueblo High School to protest the oppression of Mexican-Americans since the signing of the Treaty of Guadalupe Hidalgo. The treaty, ratified Feb. 2, 1848, marked the end of the Mexican-American War.


About 300 protesters Saturday rallied against the 150-year-old Treaty of Guadalupe Hidalgo, claiming it did not live up to its promises.

The document was ratified by President James Polk on Feb. 2, 1848, to end the Mexican-American War and give the United States a large portion of Mexico in exchange for $15 million.

The treaty was supposed to ensure that Mexican people, living in what is now the southwest United States, have the same rights enjoyed by Anglo-American citizens, demonstration organizers said.

The rally began at 10 a.m. Saturday at Pueblo High School, 3500 S. 12th Ave., where speakers from Arizona, California, Texas and Mexico talked about their political stance and community issues.

Speakers called for an end to violence and better educational opportunities for people in disadvantaged neighborhoods.

"The homeboys and the homegirls from the barrios are working very close with us - we have cut the rate down for killing by 70 percent," said Seferino García, of the Solevar Community Organization in Anaheim, Calif. "We have worked hard, we have a curriculum for peace."

"We want the Treaty of Hidalgo, the way that it was ratified by James Polk and all his thieves, to be implemented in our communities," García said. "Our communities that are right now suffering from exploitation."

David Rico, a Brown Berets de Aztlán activist group member, said the document led to stereotypes and poverty for Mexicans on both sides of the border.

"Where are the Mexicans? You know where all the Mexicans are, in the poorest communities," Rico said.

Miguel Ortega, a rally organizer and coordinator for the Tucson Xicano Mexicano Coalition for Self-Determination, said the poor living conditions in many Chicano communities are a direct result of the treaty.

"We can not emphasize enough that we're protesting the treaty," Ortega said. "We're commemorating 150 years of resistance."

Ortega also said his organization will call for a walkout in Tucson's schools if the Tucson Unified School District governing board votes against a proposal for Chicano studies programs next month.

Ortega said this was the first national event of its kind, adding that there was another rally held simultaneously at the U.S. Embassy in Mexico City.

Five UA Sigma Lambda Beta members who were at the march said the rally was for self-determination, cooperation and communication between people of all races.

Augustine Lopez, who graduated from the UA in 1996 with a psychology degree, said he participated in the event to show support.

"It's a good way to promote our culture, and we need more of these events," Lopez said. "The more communication, the better it is for our culture."

Carlos Reyes, a psychology senior and SLB member, said he is tired of the media stereotyping Chicano teen-agers as gang members.

"We especially want people to realize that this is a good cause for Chicanos and Mexican Americans," he said. "This isn't like gangs or anything, it's positive."