By Mike Jenkins
Arizona Daily Wildcat February 2, 1998

Top-ranked Wildcats swing into action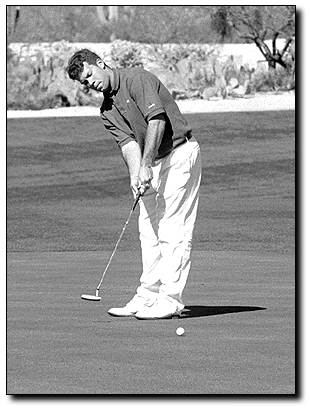 Wildcat File Photo
Arizona Daily Wildcat

UA junior Andy Barnes, seen as one of Arizona's stronger players after a 5th place finish at the William H. Tucker Intercollegiate tournament in the fall. The Wildcats will compete in the annual PING Arizona Intercollegiate tournament starting today.


Arizona's top-ranked men's golf team kicks off its spring season today at the annual PING Arizona Intercollegiate.

The tournament, which is open to the public, begins at 8 a.m. at Tucson's Raven Golf Club at Sabino Springs.

The 36-hole tournament, which concludes tomorrow, calls for a 5-man team with the lowest four totals counting toward the team score.

The tournament field is vast and competitive. The 18-team field boasts four of the top 10 teams in college golf. Second-ranked Georgia Tech, fifth-ranked Houston, and eighth-ranked UNLV join the Wildcats as the tournament favorites.

A strong Pacific 10 Conference contingent is also participating.

Southern Cal, the defending tournament champion, Arizona State, Oregon, Oregon State and Stanford are looking to surprise the rest of the field.

Arizona, who has not played in a tournament since November, is fielding two teams - a red and blue squad.

The Wildcats are coming off a strong fall season in which they won two events before finishing the season at No. 1.

"We are really excited about our team this year," assistant coach Amy Solfisburg said. "With our top three players - Rory Sabbatini, Andy Barnes and Derek Gillespie playing well, we feel our team should be very strong."

Sabbatini, a senior who enters the season as the country's second-best collegiate golfer, leads the Wildcats. With his long drives, consistent short game, and excellent putting stroke, the South African native has proven himself at this level.

During the fall season, Sabbatini won the individual title at the Jerry Pate Intercollegiate in Birmingham, Ala.

Sabbatini also has some help. Sophomore Derek Gillespie and junior Andy Barnes are both solid players who provide the Wildcats with a trio, which will be hard for other teams to match.

Gillespie, who starts the spring season ranked No. 15 in the nation, paced the Wildcats with an individual victory at the Missouri Bluffs Invitational in September. And in Albuquerque, N.M., later that month, Barnes led the Wildcats in the William H. Tucker Intercollegiate with a fifth-place finish. He also tied for third at Dallas' Red River Classic in Oct.

The team gets even stronger with the return of senior Tim Beans. Beans was a medical redshirt for the past two seasons due to injuries to his hand and wrist.

After a second team All-Pac-10 selection finish during his last season (1995), Beans should make an impact in the Wildcats' national title run this year.