Associated Press
Arizona Daily Wildcat February 3, 1998

Symington going to prison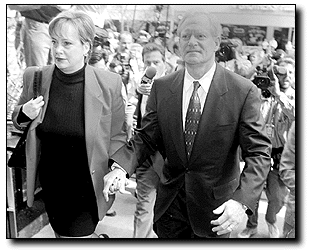 Associated Press
Arizona Daily Wildcat
Former Arizona Gov. Fife Symington enters the Federal Courthouse in Phoenix, yesterday, with his wife Ann to hear his sentence from Judge Roger Strand. Symington was found guilty of six counts of loan fraud during his years as a property developer.

PHOENIX (AP) - Former Gov. Fife Symington was sentenced to 21/2 years in prison yesterday for lying to get millions of dollars in loans to shore up his collapsing real estate empire.
The final humiliation of a prison term completed a fall from grace that drove the two-term Republican from office. After the sentencing, Symington hugged his wife, Ann, saying, "Could've been worse." His youngest son, Tommy, sobbed uncontrollably nearby.
U.S. District Judge Roger Strand also ordered Symington to pay a $60,000 fine and serve five years' probation after his release from prison. Strand ordered Symington to turn over his passport yesterday and report to prison March 20.
Symington resigned after his conviction Sept. 3, becoming the second Arizona governor in a decade forced from office by scandal. A fellow Republican, Evan Mecham, was impeached and removed by the state Senate in 1987 but later was acquitted of charges related to a questionable campaign loan.
The six counts Symington was sentenced on accused him of providing false financial statements to lenders to win loans and gain loan concessions for his real estate developments.
His voice shaking as he asked Strand for leniency, Symington said he never meant to mislead anyone but did not admit he committed crimes. He said he should have paid closer attention when preparing his financial statements.
"The legal avalanche that has resulted from my mistakes has been the most brutal experience of my life," Symington said, choking back tears. "It's sometimes hard to believe that from such stupid mistakes a nightmare was born to flourish."
Strand said he opted for a lighter sentence than prosecutors requested because prosecutors "seriously overstated" how much Symington's crimes contributed to the lenders' losses. Strand said a large portion of the losses were caused by the depression in the Phoenix real estate market.
Symington had asked to serve any prison time at a minimum-security federal work camp at Nellis Air Force Base near Las Vegas, and Strand said he would not oppose that placement. Strand also turned over the question of restitution to U.S. Bankruptcy court, where Symington faces a related lawsuit seeking more than $12 million.
Symington remained defiant in a press conference on the courthouse steps.
"The extraordinary length of this case and struggle made me feel from the very beginning that it was politically motivated," Symington said.
Federal prosecutor David Schindler said the sentence was just and "sent the message that white-collar crime will not be tolerated." Schindler said the case was not politically motivated.
"Mr. Symington was treated like any other" defendant, Schindler said.
A federal probation officer had recommended that Symington serve 61/2 to eight years in prison and pay $15.8 million in restitution. Prosecutors wanted a 10-year term. Symington's attorneys asked for probation.
Symington, who was first elected in 1991 on a promise to run the state with the same business acumen he brought to real estate, stood trial on 21 charges. He was convicted on seven counts of filing false financial statements with lenders. Strand threw out one of the convictions late last month.
Symington was acquitted of three counts, including a charge that he tried to use his political muscle as governor against a pension fund he owed $10 million, and the jury deadlocked on the remaining counts.
The verdict against Symington came after a total of 17 days of tumultuous deliberations. The jury had to start over after seven days when one of the jurors, 74-year-old Mary Jane Cotey, was dismissed because other jurors complained she was unable to concentrate on the case and refused to discuss her opinions. An alternate was added and the deliberations began anew.
Cotey later said she would have voted to acquit and said fellow jurors forced her off the panel because they wanted to convict Symington.
That removal was the cornerstone of Symington's bid for a new trial rejected by Strand and was expected to be brought up on appeal.
Juror Maria Connolly said she agreed with the prison term.
"I somewhat expected a bit harsher sentence because of the financial statements sent with erroneous figures," Connolly said. "But I sat in the courtroom for 14 weeks and I knew he's guilty."
Prosecutors in the nine-week trial contended Symington was nothing more than a swindler, taking in hundreds of thousands of dollars in developer fees while creating office buildings and shopping centers that never turned a profit. They said he misled lenders about the shaky state of his real estate empire for glory, to create the illusion he was a successful real estate developer.
In seven days on the stand, Symington insisted the errors were honest mistakes that were missed by his accountants. And he angrily denied abusing the power of his office to get the loans.
He was convicted of misleading a Japanese bank that loaned nearly $130 million to finance his crown jewel, the Camelback Esplanade office-hotel complex. He also was convicted of submitting false financial statements to a local bank and overstating his net worth to a consortium of union pension funds that loaned him $10 million to finance the Phoenix Mercado, a downtown office-retail project.
In 1994, Symington and other former directors of the failed Southwest Savings and Loan Association agreed to a $12 million settlement of a $200 million lawsuit filed by government regulators after the thrift's collapse.
A criminal investigation of the S&L's failure delved into Symington's other business dealings.
These included financial statements prepared for lenders in 1989 and 1991 showing a $35 million shift in his net worth, from a high of $12 million to a low of negative $23 million.
Symington still faces a separate federal bankruptcy trial on charges he gave false financial information to a group of union pension funds to get a $10 million loan. [AP Photos]