By Bryna Jacobs
Arizona Daily Wildcat February 4, 1998

Poetic license: Eleanor Wilner swings by UA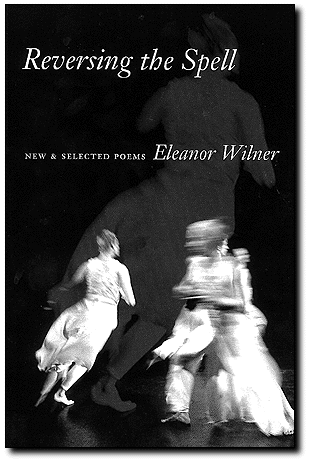 "I am a bird who sings best in her own nest," poet Eleanor Wilner says of her optimal writing atmosphere. "I am a migrant writer in poetry."

Wilner, who reads tonight in the Modern Languages Auditorium, is the author of five books of poetry and has claimed numerous awards in the literary field, including The Juniper Prize and a MacArthur Foundation Fellowship. Her most recent work is Reversing the Spell: New and Selected Poems, which probes "the history of the human imagination."

The concept of imagination is a common element in Wilner's writing, though there isn't just one thematic message at the core of her work. Imagination, she believes, is essential to human growth.

"I believe in freedom of the imagination," she says, "it can be invited, but will not be commanded."

Through her work as a contributing editor of Calyx: A Journal of and Literature by Women, Wilner hopes to ensure that female voices censored in the past will gain acknowledged status in today's society. Through published works, reading tours and the classes she teaches as head of the MFA program for writers at Warren Wilson College in North Carolina, she seeks to broaden the audience base for contemporary poets. Wilner hopes to attract people who "think they may hate poetry," but could come to "realize that poetry is a living voice.

"My poetry is outrageous and against the grain," Wilner adds. "It is poetry for people who like to talk back."

Alison Demin, director of the University of Arizona Poetry Center, says "Eleanor Wilner is a tremendously powerful poet and woman writer. Her work gives a certain depth which allows us to understand what our lives are about.

"In our fast paced existence, Wilner slows down and examines the meaning of that existence in an attempt to reclaim myth and culture."

Deming works to bring the best American and international poets to the university. "Wilner has a stunning imagination," she says. "She sees life and history through the eyes of strong and visionary women."

In writing poems that she feels "we need to read," Wilner is expressing her interest in people who have suffered in the past and have "not been permitted to speak."

Wilner allows the voices of suppressed individuals to be heard through her use of language and metaphorical imagery.

"I work with historical, mythical, and cultural material," she explains.

Wilner received a Ph.D. from Johns Hopkins University and has since placed poetry at the center of her life, saying, "Poetry expresses for me what cannot be expressed any other way."

For Wilner, the poetry gathering tomorrow evening should recall the idea of "a storyteller sitting around the fire," casual and comfortable - a setting in which students share "interest and need to hear the same things."

Eleanor Wilner will read tonight in the Modern Languages Auditorium at 8 p.m., with a reception following the reading. The reading, which is free to the public, is a component of a continuing series promoted by the University of Arizona Poetry Center.

Wilner will also give a lecture entitled "The Narcissus Problem" today from 11 a.m. to 12:15 p.m. at the Babcock Building, R 1128. For more information on either event, call 321-7760.