By Amy Schweigert
Arizona Daily Wildcat February 10, 1998

Singin' through sandwich time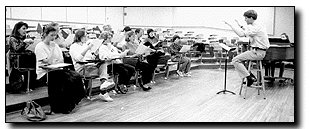 While most people on campus are scurrying for something to eat at noontime, more than a dozen faculty and staff members spend their lunch hour twice a week opening their mouths for a different reason - to sing.

"I love singing," said Nova Hinrichs, a Science and Engineering Library administrative assistant, who was warming up for a rehearsal Thursday.

Hinrichs, along with 24 other employees, make up the University Faculty-Staff Choir, which began about 15 years ago in an effort to enhance the faculty and staff experience at the UA. The university administrators who created the choir wanted to give employees a way to be involved with each other outside the office.

"The chorus is a great opportunity," Hinrichs said. "We are always learning new things."

"(The chorus offers) some relaxation and fun for those of us who work all day," Hinrichs said.

Georgina Lambert, a College of Agriculture staff member, said she enjoys singing in the choir.

"It is a great thing to do on your lunch hour - It's really fun," she said.

In front of the eclectic choir was Tom Tropp, a choral conducting graduate student, with the sleeves of his white oxford shirt rolled up so his hands could rhythmically conduct the group - all part of his master's degree program.

"It's one of the great things about the program," Tropp said about fulfilling a degree requirement by directing the choir.

Tropp was assigned to the Faculty-Staff Choir last semester and asked to continue conducting the group this spring.

"They're a cool group to work with," he said. "They are extremely highly educated people who know nothing about music."

The choir performs folk, and what Tropp characterizes as "lighter" music, two to three times a semester.

Tropp's enthusiasm for the group radiated throughout the room after they finished a song.

"Yeah," he said. "That sounds good!"

Accompanying the choir on the piano is Lynnette Barney, a music and family studies senior. Barney is involved with the Faculty-Staff Choir and the Women's Honor Choir.

"Everybody is excited to be here," she said. "It's very positive."

Tropp said the choir members are fun to work with because, unlike students, he knows they come to choir for enjoyment rather than credit. But it also means Tropp never has a consistent number of members at rehearsal.

The members, he said, come when they can.

When the choir began in the early 1980s, so many UA staff and faculty participated that three choirs were needed to accommodate about 300 people. Attendance, however, has dwindled.

Twenty-five members are currently on Tropp's roster, but at any one rehearsal, only about 10 to 15 people can be found.

"I would love to build attendance up to 50 people," Tropp said.

He said anyone working at the UA is welcome to join the choir - teaching assistants, maintenance workers, faculty or other staff. Choir rehearsals are from 12:15 to 12:50 p.m. Tuesdays and Thursdays.

The group's next performance is March 8 at Our Saviour's Lutheran Church, 1949 E. Helen St. Anyone who wants more information about joining the choir can call 621-4444.