By Craig Degel
Arizona Daily Wildcat February 10, 1998

Music for the millennium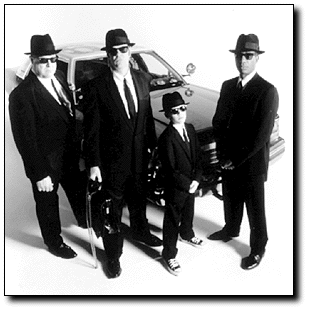 Photo courtesy of Universal Pictures
Arizona Daily Wildcat
The Bluesmen cometh: John Goodman, Dan Aykroyd, J. Evan Bonifant and Joe Morton star in "Blues Brothers 2000."

There are a lot of people out there who don't think the powers that be should have made a sequel to "The Blues Brothers."
Not without John Belushi, they say.
It's funny, but nobody seems to recall that Cab Calloway has passed on as well.
Regardless of the loss of these two legendary performers, "Blues Brothers 2000" stands well on its own. Not once did I find myself thinking, "Wow, this movie would be so much better with John."
The story is basically the same as the original, but it's 18 years later - Elwood Blues (Dan Aykroyd) is out of prison and looking to get the band back together but, of course, Jake (Belushi) is dead.
I am wary of calling John Goodman's Mighty Mack McTeer character Belushi's replacement; I don't think he was actually looking to replace Belushi, just pick up where he left off. And he fits well into the Blues Brother mold. Of course, Goodman has the voice and the presence as an actor to make anything watchable.
So, the flick picks up when Elwood meets up with Willie, the drummer, who owns a strip club where Mighty Mack is the bartender. After Elwood gets his act back together, newly improved with the help of McTeer and the young orphan and aspiring blues harmonica player, Buster (J. Evan Bonifant), they start the trip down to Queen Mousette's place for a gig.
On the way, they are chased by the Russian Mafia, a right-wing militia and Illinois policeman Cabel Chamberlain (Joe Morton), who is the illegitimate son of Calloway's character from the first film. He is after Elwood, who is wanted for kidnapping Buster, although the kid goes willingly along for the ride.
The main attraction of the film is, however, the music. Songs like "Lookin' for a Fox," "John the Revelator," "Funky Nassau," and "634-5789" are what good blues, rock and soul are all about.
Paul Shaffer, David Letterman's infamous sidekick and musical director, is responsible for the assemblage of blues, rock, bluegrass and soul music that makes this movie one of the few I've ever been tempted to dance through.
Plus a few musical legends are on hand to provide reason to break out into song. Aretha Franklin and James Brown make return performances. Also along to provide musical interludes are Wilson Pickett, Blues Traveler, Erykah Badu and 16-year-old Jonny Lang, whose vocal talent stretches far beyond his years.
The band finally makes it down to Queen Mousette's, where they perform against the Louisiana Gator Boys - an all-star collection of talent that includes B.B. King, Eric Clapton, Bo Diddley, Clarence Clemons, Isaac Hayes and Steve Winwood, among others - in a musical fight to the finish that will make you want to rush out and buy the soundtrack.