By Chris Jackson
Arizona Daily Wildcat February 10, 1998

Catching Fire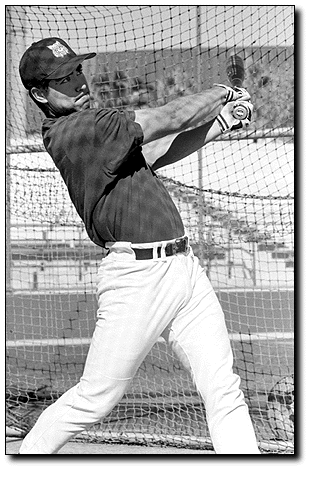 Leigh-Anne Brown
Arizona Daily Wildcat
UA catcher Greg Clark takes a few swings in the batting cage during a recent practice. Clark's current average is .444 with five home runs, five doubles, one triple and 17 RBI.

UA junior catcher Greg Clark said baseball is a game with lots of ups and downs. A good player, he said, is someone who can "make it as flat as possible."
In other words, consistency is the key.
At the moment, Clark is on top of the wave, and both he and the Wildcats hope he doesn't wipeout anytime soon.
"I just felt good last weekend," Clark said after the team's first five games.
Through UA's 11 games, Clark hit .444 with five home runs, five doubles, one triple and 17 RBI.
Last season, Clark batted .276 with one homer, 23 RBI, zero triples and eight doubles.
Not bad for a guy who described himself as having "no clue" about hitting when he came to Arizona three years ago.
"Before I came here everybody said I would learn to hit," Clark said.
Clark credits current UA head coach Jerry Stitt, the hitting coach when Clark arrived in 1996, with taking "apart my swing and completely (rebuilding) it."
The Wildcats have reaped the benefits of Clark's big bat, winning their first 11 games by the combined score of 147-66.
First baseman Kenny Corley said it's no surprise Clark is hitting so well.
"He's a great hitter," Corley said. "He's really improved at the plate."
Stitt said Clark "has a good rhythm right now.
"He's worked really hard at a lot of things he's needed to improve upon," Stitt said.
All of this has helped to justify Clark's ranking in Baseball America magazine's top 100 collegiate prospect poll.
"It shocked the hell out of me," Clark said after he found out he was ranked No. 77 in the country. "I wasn't in the top 100 high school guys, but I was told by a lot of people that I should have been. I was upset then that I wasn't."
Clark was informed of his ranking by pitcher Ryan Stoneberg.
"He kept calling me number 70, and I was like, 'I'm number 26. What are you talking about?' Then he told me and I couldn't believe it. I've been asking him to bring it in ever since so I could see it," Clark said. "It made my day."
Stitt said he was not surprised by Clark's ranking.
"I thought it might be a little low," Stitt said. "All you have to do is see him throw and you'll know he's one of the top prospects."
Corley calls Clark the "best defensive catcher I've ever worked with."
That reputation of playing great defense helped Clark enter the season as the starter behind the plate, something he said "definitely took some pressure off.
"Last year I put a little more pressure on myself trying to win the spot," he said. "I put my foot in the door and had a role for myself."
Stitt said Clark is best at dealing with the Wildcats' pitchers.
"His experience with our staff is great," Stitt said. "He handles them really well."
Clark's roommate, southpaw pitcher Rob Shabansky, had high praise for him, aside from Clark's cooking.
"He's the best catcher I've ever thrown with," Shabansky said. "He's been a big influence on me."
Clark has been credited with having one of the best throwing arms in college baseball.
Reserve catcher Mark Ukleja said Clark has a "Major League-caliber arm."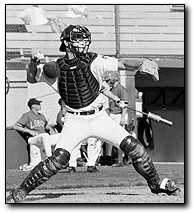 Leigh-Anne Brown
Arizona Daily Wildcat
Catcher Greg Clark (26) throws to second base to pick off a runner during last Sunday's game against the Lobos. Clark has been ranked No. 77 in the country for college baseball.
Stitt agreed, describing Clark as "a great catch and throw guy."
For Clark, though, throwing and hitting are not anything to worry about. Blocking balls is "without a doubt" the hardest part about being a catcher.
"You have something thrown at you, you know it's going to hurt, and as a catcher you're supposed to cover up all the holes," he said.
"It violates human instinct to not get out of the way."
Clark said southpaw James Johnson is the most difficult.
"His split-finger is the hardest (pitcher) I have to deal with," Clark said. "It's almost like a knuckleball in that it either goes straight or sinks fast."
While non-conference games dominate the schedule for now, Clark said he is looking forward to another season in the Pacific 10 Conference's Southern Division, especially going up against national powers like Stanford, Southern Cal and Arizona State. UA opens the conference season Feb. 20 against the Trojans in Los Angeles.
"They just really piss you off," Clark said of Stanford and USC. "They're so cocky and arrogant, so mouthy. I really hate those schools."
As for the Sun Devils, Clark said there is nothing like beating them.
"They're nice guys, I don't hate them," the Phoenix native said. "But I just really want to beat them."
Clark's ultimate goal is to get to the College World Series in Omaha, Neb.
"All I know is every time I go home and put on ESPN and the College World Series, I'm jealous," Clark said. "I just want to go so bad this year."
A tale of two seasons
A comparison of catcher Greg Clark's statistics from last season, in which he played in 51 of UA's 58 games to this season through the team's first 11 games.
1997:
batting percentage .276

RBI 23

doubles 8

triples 0

home runs 1
This season:
batting percentage .444

RBI 17

doubles 5

triples 1

home runs 5