By Mary Fan
Arizona Daily Wildcat February 11, 1998

Fewer ASUA candidates mean only 2 primaries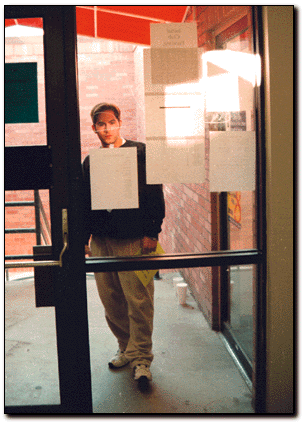 Brian Foster
Arizona Daily Wildcat

ASUA presidential candidate Joseph Sitt inspects the 1998 ASUA candidate list posted outside the ASUA offices yesterday afternoon. Students who qualified for ASUA candidacy were informed via the posted results.


Everyone running for ASUA Senate and executive vice president this year will slip past primary elections without being cut from the ballot because of a smaller candidate pool than in past years.

Running for Associated Students president are current ASUA Administrative Vice President Tara Taylor, a political science and public management junior; Patrick Williams, a communications senior; and Joseph Sitt, a finance senior.

Vying for the office of administrative vice president, which oversees student government programs and services, are ASUA Club Advocate Ryan Rosensteel, a molecular and cellular biology and political science sophomore; Michael Benveniste, a political science junior; and Jason Hand, a mechanical engineering junior.

Two candidates are running for the office of executive vice president, which oversees the Senate. They are current Sen. Francisco Aguilar, an accounting and finance junior, and journalism junior Mary Brandenberger, who now serves as Executive Vice President Casey Cuny's chief of staff.

Seventeen students are running for seats on the ASUA Senate.

The list of official candidates was announced yesterday. To get on the ballot, presidential candidates had to collect 500 student signatures. Vice presidential candidates needed 400 and Senate candidates required 300.

The ASUA Elections Code requires a primary election to cut each executive race down to two candidates in time for the general election. The primary also whittles the Senate race down to 20 candidates.

But because there are only 17 Senate candidates and two executive vice president candidates, they will all survive the Feb. 24-25 primary election unscathed.

One candidate will be cut from the presidential and administrative vice president candidate pools.

"The only primary race here is competition for the presidency and administrative vice-presidency," said ASUA Elections Commissioner Marcos Hernandez. "We don't have enough senators, so everybody moves on to generals."

After primaries, the 17 Senate candidates will vie for 10 Senate seats in the March 3-4 general election.

Last year, 21 candidates ran for the Senate and four candidates ran for executive vice-president.

The number of candidates running for president and administrative vice president is also down from last year - from four presidential candidates last year to three this year, and from five administrative vice presixdent candidates last year to three.

"It's always better to have lots of options," said Jim Drnek, ASUA's adviser. "My hope is that it doesn't affect the quality of the leadership."

But the drop in candidates was not precipitous enough for Drnek to be deeply concerned.

Fewer candidates allows officials to closer scrutinize ethical behavior, Hernandez said.

"Because there are less people, I'll be able to keep a closer eye and run things tighter than if there were a larger field of candidates," he said.

Hernandez said it is common for current officers to want to move up in the next election.

"There's a lot of fresh faces with regard to the Senate," he said.
ASUA candidates on the ballot
President:
Joseph Sitt, finance senior
Tara Taylor, political science and public management junior
Patrick Williams, communications senior
Executive Vice-President:
Francisco Aguilar, accounting and finance junior
Mary Brandenberger, journalism junior
Administrative Vice-President:
Michael Benveniste, political science junior
Jason Hand, mechanical engineering junior
Ryan Rosensteel, molecular and cellular biology and political science sophomore
Senate:
Michael Dobbs, molecular and cellular biology sophomore
Emily Dunn, marketing junior
Fernando Echiverri, health and human services administration junior
Jeff Fields, year and major unavailable
Jonathan Fine, general business junior
Benjamin Graff, general biology sophomore
Marisa Hall, senior majoring in Spanish
Eric Hochstatter, political science freshman
Travis Klein, business economics freshman
Josue Limon, polical science senior
Benjamin Lopez, political science junior
Mai Luc, business economics junior
Janet Rico Jr., political science junior
Maria M. Rodriguez, sociology junior
David Snyder, general biology senior
Brett Suma, agricultural economics freshman
Timothy Trujillo, business economics freshman