By Jimi Jo Story
Arizona Daily Wildcat February 13, 1998

UA lax on pooper-scooper, leash laws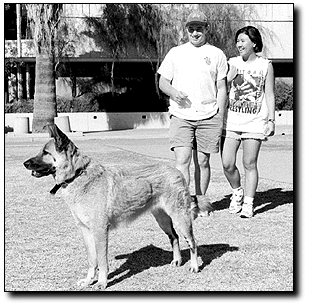 Matt Heistand
Arizona Daily Wildcat

Business junior Jason Prosser and psychology junior Marie Casanova play with their dog Mooi on the UA Mall.


Hustling students, sleepy sunbathers and screaming preachers are a few of the obvious inhabitants of the UA Mall.

But don't forget your four-legged friends. They're free to frolic too, despite a county ordinance that requires canines to be on a leash.

Pima County Animal Control enforces leash laws in Tucson, as well as the city of Tucson's "pooper-scooper" law.

While the county cites residents throughout Tucson who walk their dogs without a leash - resulting in a $79 fine - field officers wait for a request from university police before enforcing the laws on campus, said officer Dennis Downing, an Animal Control field supervisor.

The statutes also are enforced by the University of Arizona Police Department, said Cmdr. Brian Seastone, a university police spokesman.

A furor over the leash law has been unleashed between Animal Control officers and dog owners who frequent Himmel Park, about one mile east of the UA campus at North Tucson Boulevard and East Third Street.

Pet owners at Himmel Park complain that officers have been too aggressive in their pursuit of leash law violators.

Sanford Smith, a post-baccalaureate education major, said that he has been warned for leaving his dog, Sparky, off his leash at the park, so he comes to UA in the afternoons to give Sparky exercise.

"I've been warned here but it was an old fart (who warned me), so I didn't take it to heart," Smith said.

"He really needs the exercise and this is convenient for me because I live close by," he said.

Smith said Sparky likes to relieve himself in a north parking lot, so Smith does not usually clean up after him.

"If he craps out here though (indicating the UA Mall), I clean it up with paper," Smith said

Louie Mendoza, a Tucson resident who brings his dog, Babie, to campus to enjoy the sunsets, said he would be upset if he were cited for not having Babie on a leash.

Babie is currently in jeopardy because he does not have registration. Mendoza was given 60 days by Pima County animal control to correct the problem.

He said he occasionally cleans up Babie's excrement.

One of UA grounds crews' largest concerns about dogs is having to clean up after pet owners who do not take responsibility for their animals' feces.

Chuck Raetzman, assistant director of Facilities Management Grounds, said that until about five years ago, excrement on campus was a "tremendous problem."

He said the department placed a disposal scoop and baggies at Park Avenue and Third Street and on the UA Mall at North Campbell Avenue.

"Since we put those up and people started really using them, it's surprisingly cut down on the extra time it takes groundskeepers to pick up every morning," Raetzman said.

Raetzman said the bags, which cost about 4 cents apiece, have paid for themselves by reducing the number of dog piles on campus.

Ground crews' main concern is people who let their dogs dig on the Mall, he said.

"Our biggest problem is with people who let their dogs run through our flower beds and do nothing to control it. That gets costly. Then they let their dogs go in the fountain (at Old Main) and the hair clogs up the pumps and blows our motors," Raetzman said.

UAPD officer Chris Olsen, who is the handler for Daro, one of the department's narcotics and patrol dogs, said his partner has to be watched just like any other dog.

"I have to clean up after him, unfortunately," Olsen said.

Daro sometimes violates the leash law, he said.

"There are a lot of times that you need complete control of a dog without the lead," Olsen said.

Because of this, Olsen often trains Daro without a leash on the Mall while on duty.

"The nice thing about the Mall is that there are so many distractions it's hard for him to concentrate - great for his training," Olsen said.

He said that he has to be careful to be at least 100 yards away from other people, though, because Daro likes to fight with other male dogs.

When people see Daro, they are usually impressed, he said.

"Most people are so excited - they just have questions. I've never had negative comments," Olsen said.

While there are many people who bring their dogs on campus without leashes, Seastone said officers generally warn the owners rather than cite them.

"We respond to complaints as necessary and to reports of dog bites," Seastone said.

The Pima County Animal Control office reported 1,581 leash-law citations in the last fiscal year; however, only six came from the UA campus.

"We mainly respond to dog bites, or to pick up a stray dog," Downing said.

Animal Control offers words of advice on its phone recording: "Wherever you go, it's common courtesy to pick up after your pet."