By John Brown and Bryon Wells
Arizona Daily Wildcat February 17, 1998

Search for missing student continues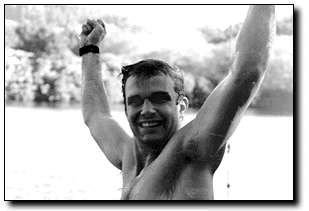 Brian Foster
Arizona Daily Wildcat
UA economics senior Anton Bakker swimming in Bass Lake over Christmas. Bakker is missing after going over an 80-foot waterfall at Tanque Verde Falls while attempting to rescue his friend's dog this weekend. Search and rescue teams will continue the search today.

Rescuers today were expected to resume the search for a UA student who fell down an 80-foot waterfall at Reddington Pass Sunday when he jumped into the water to save his friend's dog.
Searchers have spent the past two days using helicopters, mounted posses and probes to find Anton Bakker, an economics senior whose 22nd birthday is today. He is a member of Delta Chi fraternity.
Bakker's friends and family were at the falls northeast of Tucson at sunrise yesterday, before rescuers arrived about 8 a.m.
Search teams found the dog, "Dakota," dead yesterday but have yet to find any sign of Bakker, said Sgt. Brad Foust, a Pima County Sheriff's Department spokesman. Foust said a series of underwater shelves down river and intense currents due to recent snow and rain have made finding Bakker difficult.
"It's possible that he's trapped under one of those shelves," he said.
Bakker jumped into the river after his friend's dog went into the water about 4:10 p.m. Sunday and went over two 12- to 15-foot waterfalls before going down the 80-foot fall, Foust said.
Given the time, the fact that the river was running faster because of snowmelt and the chances of surviving the fall, Bakker is expected to be found dead, Foust said.
About 30 people have died at the spot, Reddington Pass' Tanque Verde Falls, since the 1950s, and only one person has survived the drop, Foust said.
UA Delta Chi chapter president Troy Googins said fraternity members are trying to keep positive attitudes despite the gloomy outlook.
"We're hoping for the best around here," Googins said. "Thoughts and prayers are going out to his family."
Brian Foster, an economics and English literature senior, said he is one of five of Bakker's friends who grew up with him in Marin County, Calif., and came to the University of Arizona together.
Jeff Walker, who played sports with Bakker and went to high school with him in Marin County, Calif., said friends are having a tough time.
"I just don't think something like this should happen to a guy like that," Walker said. "I never met a guy who didn't like him."
Bakker's kindness may have brought on the accident, said Foster, an Arizona Daily Wildcat photographer.
"Being the type of person he is, he went after the dog," Foster said.
When Bakker jumped in after the dog, it appeared he hit his head and was unconscious, because friends saw him face down and bleeding before he went over the 80-foot cliff, Foster said.
Bakker's parents, sister and fiancé arrived in town Sunday night hoping Bakker is found today to give the family closure, Foster said.