By Bryon Wells
Arizona Daily Wildcat February 17, 1998

Park Union shooting creates safety, security concerns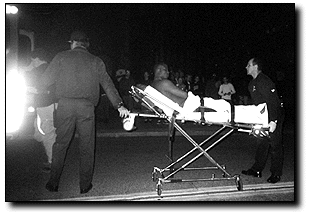 William F. Menzel/Special to the Arizona Daily Wildcat
Arizona Daily Wildcat
One of the two 19-year-old shooting victims is wheeled by paramedics into an ambulance late Friday night. The shooting has prompted university and student organizations to ensure greater security at on-campus events.

The Friday night shooting at a UA sorority-sponsored party has prompted university police and student organizations to review safety and security measures at on-campus parties.
"We're in the process of reviewing our policies and working with students to provide a safe environment for these events," said University of Arizona police Chief Harry Hueston II.
At least two officers are required at Greek-sponsored events, but the number of officers can be increased depending on the size of the facility and the crowd, Hueston said.
Two off-duty officers were working the UA Delta Sigma Theta sorority party at the Park Student Union when two 19-year-old men were shot in a nearby alley following a midnight argument, Hueston said.
The two men sustained minor injures to their legs. Both were released from University Medical Center Saturday morning and university police nabbed two alleged shooters, Osahafo J. Brewer, 17, of the 3100 block of North Wilson Street, and Xamaca L. Carpenter, 20, of the 1900 block of East Hidalgo Vista, minutes after the incident.
Brewer and Carpenter were being held at the Pima County Jail last night on charges of attempted murder, aggravated assault and felony endangerment in lieu of $500,000 bond each. None of the men involved are affiliated with the university, police said.
Dean of Students officials and National Panhellenic Council members met with Hueston last week and decided to have additional foot and vehicle patrols in the area for the event, Hueston said.
Past shooting incidents at UA-affiliated group events at the Park Union and near campus sparked the decision to beef up patrols, he added. In July, a man was shot outside a Kappa Alpha Psi fraternity party at the Theta Tau fraternity house, 1030 N. Martin Ave. He was not seriously injured.
Last March, a man fired several shots in the Park Union's west parking lot during the early morning of a party sponsored by the National Society of Black Engineers. No one was shot in the incident.
Delta Sigma Theta chapter President Marte Alexander said sorority members worked at the door Friday, where they conducted body checks for weapons and checked identification cards because people under 18 were not to be admitted. Non-students were permitted into the party, she said.
"We followed all the rules necessary in order to have a safe party," Alexander said. "Unfortunately, we had some people doing what they're not supposed to."
Cmdr. Brian Seastone, a University of Arizona Police Department spokesman, said an argument inside the center moved outside to an alley and then escalated into gunfire.
Alexander said the alleged shooters were not part of the group of 50 people at the party before midnight. The argument that precipitated the gunfire happened outside, she said.
Alexander said she plans to meet with police, Panhellenic representatives and administrators next week to discuss safety and security at similar events.
"This will be an evolving process that will go beyond the police and the Dean of Students," Hueston said. "This will be a cooperative effort."