By Craig Degel
Arizona Daily Wildcat February 17, 1998

Terry's Time is Near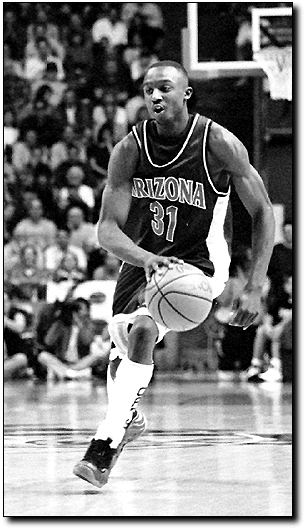 Katherine K. Gardiner
Arizona Daily Wildcat

UA junior guard Jason Terry (31) takes the ball down the court during Saturday's win over Arizona State. Terry says that next year is "his year" as a point guard.


Anyone still looking for evidence that Arizona point guard Mike Bibby will indeed turn professional after this season should listen to Jason Terry talk about next season.

The junior guard, described by many as the best sixth man in the country, will be "the man" next season. And he knows it.

"Next year is my year," Terry said.

His "year" has been delayed somewhat from his original plan. When he left Franklin High School in Seattle, Terry was to be the next great Arizona point guard. He said at the time that his role model was UA's Damon Stoudamire.

He spent his freshman year backing up Reggie Geary, who is now with the San Antonio Spurs and current UA captain Miles Simon. He played in 31 games and was named honorable mention to the Pacific 10 Conference's All-Freshman team.

Then, his career plan took a turn when the Wildcats recruited a high-touted guard out of Phoenix Shadow Mountain High School. His name was Mike Bibby. Terry, it seemed, was the odd man out.

"Everybody was talking about Mike," said Terry's best friend, Arizona center A. J. Bramlett. "But J. T. adapted, and we wouldn't be the team we are now without him."

Of course, the team they are now is the defending NCAA Champion.

In the NCAA title game, Terry played 33 minutes against Kentucky's vaunted pressure defense and did not commit a turnover. If playing behind Bibby was on his mind, it certainly wasn't showing in his play.

"(Bibby's signing) affected me for a while," Terry said. "Based on a lot of things, I knew I wouldn't be starting but I have my role now."

A lot of words are used to describe what that role is and what Terry brings to this championship-caliber team.

Words like "spark plug", "motivator", the term "consummate role player" have all been attached to the 6-foot-1 Terry.

But perhaps the word that may best describe him is "showman."

Because, beneath all the basketball talent, Jason Terry is a showman at heart.

He is the emotional conductor of the Wildcats' express train toward the Final Four. He brings energy to the floor when he gets the call, which is usually around the first television timeout in the ball game, which comes after the first four minutes.

"I'm always on the edge of my seat," Terry said. "I just can't wait for that first timeout."

When he finally does get onto the floor, whoever he's guarding can expect things to get a lot darker before they gets lighter because Terry is one of the best at defense. He set an Arizona single-season record last year with 85 steals.

This year, he sits at just 45 steals with six regular season games remaining but, among the top-10 in the conference in steals, Terry is the only non-starter.

"I'm not on pace to break the record because everyone else has picked up the defense around me," Terry said.

One of the records he is on pace to break is the Arizona career steals mark of 209, held by Geary. Going into his junior year, Geary had 92 steals, Terry had 104.

Offensively, Terry is no slouch either. He is averaging 11 points and four assists a game.

"His ability to come off the bench and give us an immediate spark on both offense and defense is a talent very few people have," Arizona head coach Lute Olson said.

Perhaps, though, it is Terry's ability to make his teammates laugh that provides the team with its biggest boost. Some of the things are intentional, others not.

Michael Dickerson said in this year's media guide that the one thing that always makes him laugh is thinking of when Terry blew a dunk against Michigan last season. Terry, as you might expect, takes it all with a smile. If you can't laugh at yourself, who can you laugh at, right?

If Arizona had a dance captain, it would probably be Terry.

Last year, he celebrated outstanding plays by doing the Quad City DJ's-inspired train dance. Now, he does the Denver Broncos-inspired "Mile High Salute" with Bramlett when the latter is introduced with the other Arizona starters.

"It's a salute to them more than anything," Terry said of the Super Bowl champions. "They were just like us last year, nobody picked them to win."

But now, a lot of people are picking UA to win. It's certainly a different situation for Terry, who likes to good-naturedly rib the local media if they ever do pick against the Wildcats in a game.

"Whatever you pick," Terry said. "We're going to win anyway."

With six games left in the regular season and as many as six in the tournament should UA go all the way, Terry is focused on his role. But come 1998-99, that role will become decidedly different.

"We've been talking about this since freshman year," Bramlett said. "He's definitely ready. He can handle the point."
Jason Terry ... Up Close
Likes to sleep in his uniform before games.

Arguably the best game of his career came in front of his hometown crowd in Seattle when he tallied 23 points against Washington on Feb. 2, 1997.

Says his best athletic performance ever was when he scored three touchdowns in a high school football game.

Lists his hobbies as basketball, basketball and basketball.