The Online Wildcat runs photo spreads whenever we can, usually on a weekly basis. We scan the photos that didn't make it into the newspaper and post them for our web audience.

The photo spreads are listed with the most recent first.

(Comments can be sent to the Webmaster)



---
(3/23/98)


A little music..
From the arts desk, nice color shots of the 90's uber-retro-swingers Big bad Voodoo Daddy and local beer/bar phenoms Shindig.

---
(3/4/98)


Pac-10 #8
This photospread is largely composed of huge, color shots of the UA men's basketball team defeating Stanford and clinching UA's 8th PAC10 title.

---
(2/25/98)


Horses, and hurlers
Continuing our tradition of running photospreads with completely unrelated topics, we've got pictures from the 1998 La Fiesta De Los Vaqueros - and the women's lacrosse team.

---
(2/16/98)


Hoops + Skirts
Very, very rarely do we get to run photos of a drag show and basketball in the same photospreas, but...you get the idea. And they're in color...

---
(2/3/98)


Various Extra Photos
Baseball, gymnastics, rugby, tennis...this photospread has a little bit of everything.



---
(1/14/98)


The Insight.com bowl
The Wildcats took on the New Mexico Lobos in the Insight.com bowl, beating them 20-14.



---
(12/7/97)


Jane's Addiction in Phoenix
The (legendary) Jane's Addiction played a long-awaited reunion tour concert in Phoenix Dec. 4 -- and we got photos. All we have to say is...Perry Farrell.



---
(12/1/97)

UA beats ASU 28-16
Yes, we have color photos of the Wildcats beating the Sun Devils 28 - 16 in their own stadium. Need we say more?



---
(11/24/97)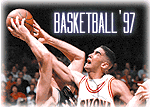 Basketball '97
The Wildcat previews the 1997 Basketball Cats, and all the madness surrounding the upcoming season.
---
(11/17/97)
Womens Basketball & Football v. Cal. Berkeley
The UA Womens B-ball team goes head to head with Myjava Slovakia, and beats them 88-65 loss.

Also in this spread, UA football beating Cal. Berkeley 31-28.

---
(11/11/97)

Homecoming 1997:
The alumni are gone, the parades are over - and we won the football game. Take a look at our homecoming shots and see what it was like.

---
(11/2/97)

The Red & Blue scrimmage pits the Wildcats against...the Wildcats. Jason Terry and Miles Simon led Red team, and the Blue team included Mike Bibby, Michael Dickerson, Eugene Edgerson, A.J. Bramlett, Josh Pastner and Jason Stewart.
---

(10-24-97)

We've got photos of the UA Icecats outskating the St. Louis Billikens 12-3.
The Icecats also won their second game against the Billikens 11-1 the following day.

---
UA vs. Washington
(10/20/97)
Washington trounces the Wildcats 58-22 in their own stadium.
A really cool 43k gif animation of UA fullback Kelvin Eafon diving for a touchdown...
---
Midnight Madness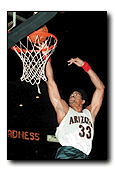 (10/17/97)
The Wildcats strut their stuff for their hometown fans at McKale Center, Friday, October 17, 1997.
---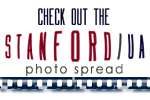 (10/11/97)
UA beats Stanford in a 28-22 upset win over the 16th-ranked Stanford Cardinals. "We knew this was a do or die game that we had to have," said linebacker Marcus Bell...
---
And let's not forget....
The Final Four Photo Page!


I don't think this needs any introduction, so we'll just let the photos speak for themselves.