UA students could suffer as U S West labor dispute enters second week
By Stuart Williams
Arizona Daily Wildcat
August 24, 1998


Send comments to:
city@wildcat.arizona.edu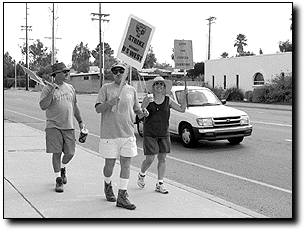 Tanith L. Balaban
Arizona Daily Wildcat

Brandishing picket signs and holding a list of the "scabs," (from left) John Gonzalez, Kevin Harrington and Mildred Castro protest outside of the U S West building on Country Club Road Friday afternoon. Each has worked more than 20 years in the company. Students and businesses are feeling the effects of the strike, which is in its second week.


A U S West strike entering its second week may affect the deluge of new and returning UA students seeking to hook up phone lines in the next few weeks.

About 34,000 U S West workers in 13 states, including 5,000 to 6,000 in Arizona, walked off their jobs Aug. 14, when a three-year contract between Communications Workers of America union members and the Southwest's major local phone service provider expir ed.

Union leaders cited forced overtime, insufficient employee benefits and pay scales based on productivity as reasons for the strike.

Denver-based U S West is staffing its southern Arizona facilities with about 1,500 salaried employees, who are working 12- to 18-hour shifts, seven days a week, to mitigate potential service disruptions.

Late last week, the impact on phone installation services for University of Arizona students wasn't clear, but a prolonged strike may undermine U S West's efforts to manage a sustained surge in installation requests and other services.

"There haven't been any problems that I've been aware of," said Jim Van Arsdel, director of UA's residence life, which manages student residence hall services and arranges for phone services through UA's Center for Computing and Information Technology.

"Things have been pretty quiet, not a peep," said Matt Dempsey, property manager at 3-D Management & Investment, a local firm leasing apartments to UA students.

Still, some off-campus students are facing indefinite delays.

"It (U S West) was sure quick in disconnecting my phone, but now they've told me that they wouldn't be able to install my new line until the strike is settled," said Carrie Blee, a undeclared junior.

Calls placed to U S West's customer service center in the last few days have been answered with recorded messages warning the listener: "Due to our current labor dispute, we are handling requests in order of urgency."

Another message said, "I'm sorry, due to the work stoppage, no operators are available."

U S West's Phoenix spokesman Jim Roof could not be reached for comment late last week.

On Saturday, federal labor mediator Jim Mahon ordered U S West and striking CWA workers to return to the bargaining table amid the phone company's allegations that the union was stalling and not making a genuine effort to settle the dispute.

"We think the bargaining teams should be working around the clock, and that's not what's happening," said U S West spokesman Jerry West. U S West claimed the CWA only negotiated for 65 minutes during the three days of discussions scheduled through Saturda y.

Meanwhile, U S West obtained a temporary restraining order Friday prohibiting striking workers from impeding U S West's operations after pickets in Salt Lake City threatened managers and contracted workers.

The U S West strike comes on the heels of a recent J.D. Power and Associates residential telephone satisfaction survey ranking it last with a score of 92 among the nation's major regional phone carriers.

Atlanta-based BellSouth earned a top score of 120, while Chicago-based Ameritech earned a mark of 94. US West, the nation's sixth-largest phone carrier, operates 2.8 million phone lines in Arizona and 25 million lines in 14 western states.