Off and running
By Zach Thomas
Arizona Daily Wildcat
August 24, 1998


Send comments to:
city@wildcat.arizona.edu


Wildcat File Photo
Arizona Daily Wildcat

Zach Thomas


It's happening.

And there's not a thing anyone can do about it.

The trickle of summertime students has turned into an autumn deluge and the new crop of freshmen is here, complete with parents in tow.

The lines at the Bursar's Office are vaguely reminiscent of Disneyland on a sunny Saturday.

And to my own personal relief, the Student Union's "A" Bagel Express has reopened after a sweltering, chiveless summer.

Everywhere one turns, the campus smacks of a new school year and a fresh start - as does the issue number on today's Daily Wildcat:: Number 1.

For newbies and returning students alike, I believe it important that you understand the balance that the Wildcat attempts to maintain in its coverage. Student newspapers may play a key role in generating campus-wide dialogue, and by including everything from breaking news to the comics, we hope to make you smile, cause you concern, pique your interest and stimulate your thoughts.

In terms of the paper itself, expect exhaustive campus-area news coverage from our staff of student reporters and editors. From the sports desk, look out for the Daily Wildcat athlete of the week profiling the UA's best and brightest.

In addition, we've put in place a Wildcat special projects team to contribute proactive coverage and in-depth reporting away from the daily grind of the city desk. Comprised of two senior reporters and a designer, the close-knit crew will hopefully thwart the time constraints that have in the past put long-term projects on hold in lieu of daily news coverage. No more. With the added flexibility, we'll be able to cover facets of the campus spectrum heretofore untouched.

Also making its debut this week is Catalyst, an all-new, student-produced arts magazine covering the campus area with everything from student artist profiles and off-beat wire tales, to features detailing the many facets of the campus and Tucson-area arts scene. Check Thursday's Wildcat.

Turning to the Internet side of things, reports indicate Wildcat Web master Ryan Bond has finalized the redesigned Wildcat Online site that not only keeps you up-to-date with the latest news, but soon will feature links to campus and Tucson-area resources. Check it out at http://wc.arizona.edu.

Looking to a larger picture, I'd like to say that we Wildcatters are round-the-clock watchdogs, constantly combing the University of Arizona's sinister underbelly and nabbing hardened criminals while helping senior citizens cross streets.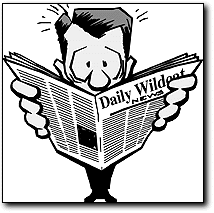 What I'm getting at is that Wildcat reporters and photographers can't be everywhere at once, so I'm asking you to keep a watchful eye out.
Did you see a rippin' band that everyone should know about? Give the Catalyst staff a heads-up.
What about that one-armed juggler on the Mall or that cutting-edge research your professor is doing? Clue us in please.
How about a homicide? Did you witness a murder? Call the police. Then call us.
Although I had at the outset intended to detail pressing campus issues in this column, I'll save that for another day.
To the freshmen: Welcome to the University of Arizona.
To the fifth-year seniors and other returnees: Welcome back.
I'm staring forward at an adrenaline-laden semester and the Arizona Daily Wildcat will be there to record it. I hope you'll read along.
Zach Thomas is the editor in chief of the Arizona Daily Wildcat. He can be reached via e-mail at editor@wildcat.arizona.edu or at 621-7579.