Construction closes Cherry Avenue for two years
By Jeff Polley
Arizona Daily Wildcat
August 24, 1998


Send comments to:
city@wildcat.arizona.edu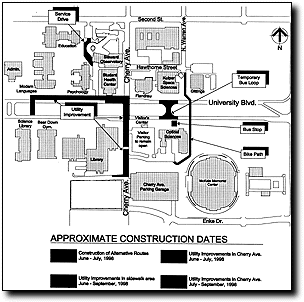 Wildcat File Photo
Arizona Daily Wildcat


Students trekking to class this semester may have to dodge detour signs and orange cones as the Mall Enhancement Project gets underway.

Cherry Avenue closed last week and will be blocked for two years as the center of the University of Arizona's campus gets a facelift.

Traffic will come to a standstill at Fourth Street and Cherry Avenue as workers lay water and utility lines for the project, which includes construction of the Integrated Learning Center, an underground facility that will cater to first-year students. The ILC is slated for completion in the fall of 2000.

Construction of the $20 million center will disrupt the UA Mall for 18 months. As a result, parking for the Main Library, Campus Health Center and Flandrau Science Center & Planetarium could be tricky.

The project will detour motorists, bicyclists and pedestrians from work sites to minimize disruption.

"We are working to provide the safest and (most) direct route for students," said Melissa Dryden, a UA facilities design and construction program coordinator. "The north and south route closure (of Cherry Avenue) will make it difficult for vehicles, but we are creating new bike paths and diverting bus service to make the daily commute easier."

Architecture sophomore Nicole Delgeorge said the construction is a must for campus improvement.

"I don't think that the closure of Cherry is going to affect many people because of all the detours that alert everyone to the situation," Delgeorge said.

Chris Pusch, a political science senior, said he felt trapped by the construction.

"I think it's just going to be one big dungeon," he said.