Drumming for a stronger future
By Thomas Kennedy
Arizona Daily Wildcat
August 24, 1998


Send comments to:
city@wildcat.arizona.edu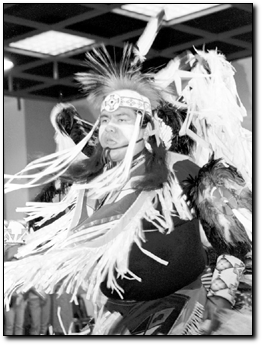 Brian Foster
Arizona Daily Wildcat

Norbert Nez dances Saturday night in the Arizona Ballroom at the Memorial Student Union. The dance was one of many performed during a diversity powwow held for incoming students.


Standing amidst the heartbeat rhythm of drumming and the spinning of colorful feather-clad dancers, Carl Etsitty felt at home.

Etsitty, a UA soil, water, and environmental science graduate student of Navajo heritage, was among 300 people Saturday attending the second annual Wildcat "Welcome Back" Powwow in the Arizona Ballroom.

"This powwow is primarily a welcome to home-away-from-home for Native American freshmen, some of whom have never really lived off the reservation before," said Bruce Meyers, assistant dean for Native American student affairs and coordinator of the event.

The ceremony, also a welcome back for returning students, gives people a chance to reconnect with the American Indian community at the University of Arizona, Meyers said.

"This provides us a chance see old friends and introduce us to our new surroundings - plus it's also fun," said Ryan Nez, a Dine (Navajo) education freshman.

Daniel Preston, the Tohono O'odham's San Xavier District vice chairman, led the intertribal powwow's invocation. He prayed for "peace in this especially angry and violent time in the world" and asked for a "blessing on all peoples."

The invocation was followed by the "Gourd Dance," a rhythmic piece for American Indian war veterans. The dance was adapted from the traditional Plains Indian dance for male warriors, Meyers said.

Etsitty said the gathering allowed American Indian students to affirm their ethnic heritage and identity.

"(It provides) urban Indians with a chance to feel at one and in harmony again from the sense of isolation that can come from living away from the reservation at a major university," he said.

Representatives from Retention in Education for Today's American Indian Nations, a national organization sponsored by the UA, Arizona State University and Northern Arizona University, provided information about their efforts to combat the dropout rate for American Indian college students. Arizona has one of the worst retention rates in the country, according to Etsitty.

In April, the UA will host a national conference on retention. A local planning committee meeting will take place Friday from 8:15 a.m. to 10 a.m. in the Memorial Student Union's Tucson Room.

For more information about American Indian organizations and activities on campus, contact the Native American Resource Center at 621-3835.