Reflections of an artist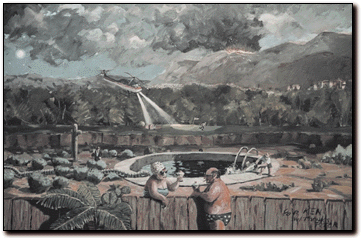 Wildcat File Photo
Arizona Daily Wildcat

"(Peter Birmingham) didn't have a lot of ego and that is something I found very refreshing." David Soren Regents' Professor who knew him for about 16 years


The man who brought art to life on the UA campus will be remembered Monday at a public memorial service.

Peter Bermingham, University of Arizona Museum of Art director and chief curator for more than 20 years, died Jan. 30 after heart surgery. He was 61.

"My recollection that is so powerful is how much he loved art and how he articulated how important art was to society," said Terence Pitts, director of the Center for Creative Photography, who knew Bermingham for more than 20 years.

Colleagues, friends and family will gather in the UA Museum of Art at noon Monday to honor his life and appreciate his legacy.

During Bermingham's tenure, he doubled the size of the museum's permanent collection to about 4,000 works. He also took steps to make art available to students by assembling a teaching collection.

"He was devoted to the arts and wanted to make them accessible to everybody," said Barbara Kittle, a librarian at the UA Museum of Art. "I think he tried to show art that people would not have a chance to see anywhere else in this region."

Memorial Service for Peter Bermingham
Second floor of the UA Museum of Art, 1031 N. Olive.
The service is open for the public to attend.

Bermingham had artwork placed around 17 campus buildings, and secured a $50,000 grant to build the "clothespin statue" on the north end of the UA Mall near North Campbell Avenue.

"I can't drive on Campbell and see the arches and not think of Peter," said Alexander Dunkel, associate professor of Russian and Slavic languages.

Bermingham expanded the museum to feature 12 to 15 exhibits each year. When he came to the UA in 1978, the museum held about one major annual exhibit.

Some of Bermingham's paintings will be on display until Feb. 28 at the UA Museum of Art. They have been featured at the campus art center since Feb. 1, said Lee Karpiscak, assistant director of the UA Museum of Art.

From what she can remember, Karpiscak said, Bermingham never had a one-person exhibit of his own paintings.

"The works really show Peter's sense of humor," she said, remembering his quirky anecdotes and humorous interjections into everyday stories.

He would stay up until one or two in the morning painting in his studio at home to sometimes give his art away as gifts or charity auctions, Karpiscak said.

"This was a genuinely nice guy," said Regents' Professor David Soren, who knew him for about 16 years. "He certainly treated everyone like they really mattered."

Soren, a classics instructor, said he most admired Bermingham's modesty.

"He didn't have a lot of ego and that is something I found very refreshing," Soren said, adding that he will miss their friendship and conversations.

Bermingham was always willing to view artists' work, said Josh Goldberg, curator of education in the art museum.

"Somebody could almost walk in and say 'look at my art' and he would," he said.

Bermingham earned a doctorate in art history from the University of Michigan in 1971. He served as curator of education at the Smithsonian Institution from 1972 to 1978. Bermingham also was an assistant professor of art history at the University of Cincinnati from 1970 to 1971.

Bermingham is survived by his wife, Eleanor, and five children. The UA Museum of Art is accepting donations in Bermingham's name.