Shorthanded Wildcats avenge earlier loss with 17-point blowout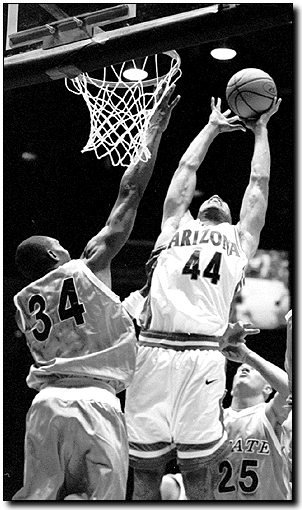 Nicholas Valenzuela
Arizona Daily Wildcat

Freshman forward Richard Jefferson (44) goes up for a basket against Oregon's junior forward Iyan Walker (34) last night at McKale Center. Jefferson had nine points, five assists and seven rebounds in the 89-72 win over the Beavers.


While Oregon State has gained some respectability in the Pacific 10 Conference this season, it was the same old Beavers last night at McKale Center getting blown out from the tip-off through the final buzzer.
More Info
Check out more coverage, including schedules, scores, audio, and all kinds of goodieness on our special UA Basketball site.

Arizona (19-4, 10-3 Pac-10) jumped out to a 14-3 lead over the first six minutes and the Beavers (12-11, 6-8) never recovered, eventually losing 89-72 in the Wildcats' 29th consecutive home win.

"They really came out and took it to us early," OSU head coach Eddie Payne said. "They set the tone for the game physically."

Senior point guard Jason Terry, who led Arizona with 21 points and six assists, said the initial focus and energy at the beginning of the game had a lot to do with a desire for revenge for the Wildcats' 60-59 loss to the Beavers in Corvallis Jan. 23.

"We had a lot to prove," Terry said. "They came in a little cocky and we wanted to knock that chip off their shoulders early."

Arizona was so dominant inside behind Michael Wright and A.J. Bramlett that the Beavers didn't have a single rebound for the first four minutes of the game. Bramlett posted his 14th double-double of the year with 17 points and 11 rebounds, putting him at sixth place on the UA all-time double-double list.
No. 8 Arizona vs. Oregon
(19-4, 10-3 Pac-10) (14-9, 6-8)
Tipoff: Saturday at 1:07 p.m. at McKale Center
TV/Radio: Televised on KTTU (broadcast ch. 18, Cox Cable ch. 2); Broadcast on KNST (790 AM)
Game Notes: Arizona beat Oregon 85-83 Jan. 21 behind five steals and a season-high 37 points from point guard Jason Terry...Both Terry and freshman Michael Wright went 10-10 from the free throw line that game...Arizona has won 29 consecutive games at McKale Center. . .After starting the conference season 2-8, Oregon has won four straight games...UA assistant coach Jay John was on UO head coach Ernie Kent's staff last year...UO forward A.D. Smith has three double-doubles in his last four games.

Payne said OSU starting power forward Clifton Jones was simply overpowered by Wright, who finished with 17 points and five rebounds.

"Michael Wright just whipped him inside," Payne said.

Besides avenging the earlier loss, the game also served to keep the Wildcats' momentum strong going into the last stretch of the regular season only one game behind first place Stanford, who the Wildcats will face next Thursday at Maples Pavilion in Palo Alto, Calif.

"Everyone has their minds on winning the Pac-10 title," Terry said. "We are the defending champions and we're going to protect what's ours."

After falling behind 42-26 at halftime, the Beavers came out in the second half with a 7-0 run to cut the lead to nine, but a Terry three-pointer put the Wildcats back up by 12 and the lead would never get under double digits again.

"We're so unaccustomed to having a lead that size at halftime, I guess we forgot how to act," UA head coach Lute Olson said.

Olson praised Terry's defense on OSU sophomore point guard Deaundra Tanner, despite his finishing with 27 points on 9 of 20 shooting, because Tanner committed an uncharacteristic seven turnovers.

"A guy like that isn't going to make that many mistakes unless the defense forces him to," Olson said.

The head coach said he was happy with the Wildcats' defensive intensity in general, but specifically with the job done by Richard Jefferson and Rick Anderson in getting into the passing lanes.

Jefferson, a small forward at 6-foot-6, and Anderson, a shooting guard at 6-8, also contributed offensively, combining for 23 points, 10 rebounds and six assists with only two turnovers.
Starting Lineups
Arizona
F 44 Richard Jefferson F 21 Michael Wright C 42 A.J. Bramlett G 22 Rick Anderson G 31 Jason Terry
Oregon
F 33 Alex Scales F 00 A.D. Smith C 50 Mike Carson G 14 Terik Brown G 4 Darius Wright

"Richard played well and Ricky played well," Olson said. "With that kind of size, it gives us a lot of advantages inside."

Anderson, who didn't play at all in a home win over Arizona State last Wednesday, started last night at shooting guard because of a one game suspension which Olson dished out to Ruben Douglas and Traves Wilson.

Olson wouldn't detail the freshmen's infractions, instead saying the two had to sit because of a "failure to fulfill team requirements."

While Douglas and Wilson joked around on the bench during the game, their inability to keep out of trouble has started to bother the veteran players.

One of Terry's first remarks after the game was that it would be nice to have a set starting rotation, while Eugene Edgerson said the upheaval could take its toll on team chemistry.

"It hurts," Edgerson said, "especially at this time of the year. We don't need this type of nonsense off the court. We can't have guys not taking care of their responsibilities."

Olson said Anderson would probably keep his starting role Saturday, when the Wildcats take on the Oregon Ducks, who beat ASU last night 76-75 in Tempe behind 23 points from Tarik Brown and 21 points from Alex Scales.

Arizona beat the Ducks 85-83 Jan. 21 in Eugene behind a career-high 37 points from Terry.

Seth Doria can be reached at Seth.Doria@wildcat.arizona.edu.