6 Degrees Lukewarm
By Erin Kirsten Stein
Arizona Daily Wildcat
February 23, 1999


Send comments to:
letters@wildcat.arizona.edu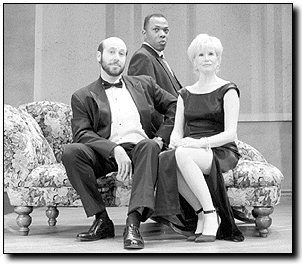 Wildcat File Photo
Arizona Daily Wildcat
From left to right, Milton Papageorge (Flan), DeJon Fitzgerald (Paul) and Susan d'Autremont (Ouisa) get ready for their upcoming performance of "Six Degrees of Separation" put on by the Arizona Repertory Theatre. The show will run until Sunday February 28 and the cost is $16 with student and senior discounts available.
We are all connected by just six people. We also are separated by six people.
Ultimately, The Arizona Repertory Theatre's production of "Six Degrees of Separation" is about the search for family. But it doesn't reach the level of irony or transformation necessary to fully realize the impact of the play.
The actors stand around the stage delivering monologues. Sometimes, their lines are hard to understand. There are lots of jokes in this play, but it is performed with so much gravity, that the play isn't that funny. The emphasis is on the tragic examination of contemporary American life.
The setting is the Upper East Side of Manhattan; a world with doormen and maids at its fringes. The Kittredges, Flan and Ouisa, buy and sell art and their children attend Harvard. One evening, a millionaire from Africa is drinking with them before dinner. A charming stranger arrives. He can talk literature and art, he can cook, he knows their children, and he can get them into the movie version of "Cats."
Where It's At
"Six Degrees of Separation" is playing through February 28 at Marroney Theatre in the UA Fine Arts Complex. Tickets are $16 for general admission, $14 for senior citizens and UA employees, and $10 for students. Call 621-1162 for showtimes and tickets.

He says his name is Paul.

And he says he is Sidney Poitier's son.

The problem is, he isn't Poitier's son, or anyone else's. He needs a family and seduces people with his exoticism and fake celebrity to create a family for himself. And everyone is willing to be seduced.

The playwright, John Guare, based this on a true experience of a friend of his. It is a satirical look at Americans today, separating themselves from each other and simultaneously hungering for connection. But this production does not fully convey the play's meaning.

For one thing, the Kittredges aren't snooty enough. They're really nice, actually, and it's unclear why they are so distant from their children. You never hear the martini glasses clinking, and you can't really imagine Flan and Ouisa hobnobbing with Tom Wolfe. They're just regular people. The Kittredges talk of buying and selling Cezannes and Matisses, in the $25 million range, but it's just talk. There is no difference between the Kittredges and the young con artist who claims to be Sidney Poitier's son. But in performance, the couple doesn't sell themselves the way Paul does.

Milton Papageorge as Flan, and Susan d'Autremont as Ouisa are both capable actors and fun to watch, but their characters are restrained. The change in Ouisa toward Paul is not a great change because she is so sympathetic at the beginning.

The set doesn't reflect the Kittredges' outer surface as it should. They are art dealers in New York City. Why would they match an ugly red rug with an even uglier floral upholstery? The physical set itself works nicely, but the interior decorating decreased credibility in the Kittredges. The costumes, however, worked very nicely and unobtrusively. Expensive, but simple.

DeJon Fitzgerald as Paul manages to be ingenuous and charming, but his lines are hard to understand at times. At the end, he is lonely and sympathetic enough that you want to take him home too.

The director had a vision for this play. It's the double sided Kandinsky floating above the stage. Black and white; together yet separate. But the extreme emphasis on painting and artists is not effective, and when the actors step forward to talk of a painter, it only distracts from the relationships developing on stage.