Rugby team sweeps weekend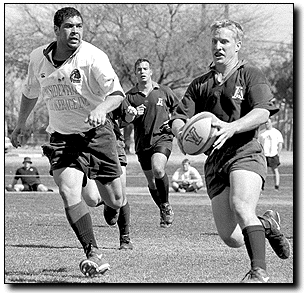 Eric M. Jukelevics
Arizona Daily Wildcat

Senior center Jon Shumway (12) runs for a try Sunday against San Diego State University at Estevan Field. The Wildcats won 30-13, putting them in a four way tie for first in their division.


The UA rugby team rebounded from a tough loss to California last weekend to cruise to convincing conference victories over the University of San Diego and San Diego State at home.

UA head coach Dave Sitton said that the victories were especially important in the conference standings.

In Friday's game against USD, the Wildcats came out emotionally charged and raced to a 36-0 halftime lead. All-American fullback Chris Kron scored three trys in the victory, while Ken Goto and Zach Harrison scored two trys each. The Wildcats won the game 51-7, ending a two game losing streak.

"Anytime you can put 51 points on the board you have to be happy," Sitton said.

Heading into Sunday's game against San Diego State, Sitton said that he was anticipating a physical and tough matchup against their rival school.

"This should be a game just like Cal," Sitton said before the match-up.

The Wildcats found themselves trailing 5-0 in the early moments of the game, then, just a minute later, Al Lakomskis responded with a fifty yard run that was finished by Harrison's run in for the score. Harrison kicked the conversion to give the Wildcats a 7-5 lead. After the teams traded field goals, the Wildcats were awarded a penalty try after Joe Schmitt was illegally tackled during a 60-yard run for the endzone. Harrison again kicked the conversion to extend Arizona's lead to 17-8. Harrison would make two more penalty kicks and score another try to finish the day with 20 points. Kron added another score to finish the weekend with four trys.

On Saturday, Long Beach State defeated the University of California at Santa Barbara to create a four-way tie for the conference lead between UCSB, Arizona, San Diego State and Long Beach State.

Arizona's J.V. team also swept the San Diego Schools this weekend.

The Wildcats will rest this weekend, before taking a Southern California road trip to play UCLA on Friday, Mar. 6, and Long Beach State on Sunday, Mar. 7.

Laxcats lose 2 on road trip

Laxcats got an up-close view of what top-ranked lacrosse play looks like.

In a weekend series against No. 1 California and No. 6 Sonoma State, the Laxcats were swept by a combined score of 30-8.

Head coach Mickey-Miles Felton said that it has been quite a while since the Laxcats have had to endure this lack of success in one weekend.

In Friday night's game against Cal, the Bears started the scoring with a 5-1 lead in the first quarter. They ended the first half by scoring with a one man disadvantage, and then adding another goal in the final minute to take a 11-2 halftime lead. Cal dominated the second half as well, eventually winning 18-3.

Sunday's game against Sonoma State was played in the mud after an all-day rain storm hit California on Saturday. The Cossacks scored their first goal 30 seconds into the game, but Arizona fought back to take a 2-1 lead. The Laxcats' offense was shut out in the second quarter, while Sonoma State added three goals to take a 5-2 lead. Sonoma outscored Arizona 7-3 in a physical second half and won the game 12-5.

Sophomore defenseman Tom Christian, playing in his first game after recovering from knee surgery, separated his shoulder in the first quarter against Cal.

Felton said that this team reminds him of the 1987 Laxcats, the last team to finish without a winning record. He said that the 1987 team started off the season 1-4, but went on to win key games and make it to the playoffs.

"This year could be similar," Felton said. "We need to put our record aside, continue to grow as a team, and win the games that we must."

It doesn't get any easier for the Laxcats (1-3) as the No. 2-ranked Brigham Young University comes this Saturday to Wildcat Field at 7 p.m. - Chris Reimer

Women's lacrosse

drops home openers

The Arizona women's lacrosse team remained winless on the year after dropping its home openers to Claremont 15-11 Saturday and to UCLA 13-8 Sunday.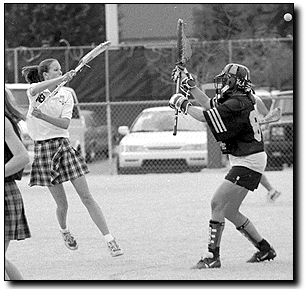 Nicholas A. Valenzuela
Arizona Daily Wildcat

UA midfielder Laurie Bodmer (18) takes a shot on goal against UCLA's goalie during Sunday afternoon's game. The Arizona women's lacrosse team both of its games over the weekend. They lost to Claremont 15-11 on Saturday and 13-8 against UCLA on Sunday.

"I don't think we've come together as a team yet," midfielder Laurie Bodmer said.

Bodmer had two goals in the loss to the Bruins, who got revenge for a 6-5 exhibition loss to the Wildcats at the Santa Barbara Lacrosse Shoot-out Feb. 13-14.

UCLA took the lead early in the game on the first of Suzanne Steiner's three goals. UA sophomore Praecia Costley responded two minutes later, and the game went back and forth for most of the first half, with Arizona (0-4) taking its only lead, 4-3, on a goal by Dana Janssen with 7:42 remaining.

The Bruins' Jill Hannaman scored her first of four goals to tie the game 4-4, followed by Alison Lee's second of her three goals with 2:54 remaining to give UCLA a 5-4 lead at the half.

Arizona junior Erin Bradbury cut the lead to 7-6 with 24:56 left in the second half, but UCLA then went on a 6-2 run to blow the game open. The Wildcats went 14:41 in between their seventh and eighth goals, stopped dead by Bruins' goalie Shannon Kline.

The Arizona defense, in the meantime, could not overcome the Bruins' more experienced offense.

"Defensively we were getting beat one-on-one," senior defender Maren Henley said. "The slides aren't coming along for us."

Next up for the Wildcats is UC-San Diego, a team UA split games with in the Santa Barbara Shoot-out.

"(It's) definitely a must-win. We've got to win next weekend," Henley said. -Chris Jackson

Volleyball wins one, loses one in Utah

After spending a weekend in Utah, facing NCAA No. 1 ranked powerhouse Brigham Young University and club Utah Valley State College team, the UA men's club volleyball team split its matches 1-1.

"We did really well," UA head club coach Steve Carlat said. "It was an interesting weekend."

Friday, the Wildcats downed the UVSC Wolverines in three games, 15-2, 15-2 and 15-11.

"We were ready to play," Carlat said. "The ream executed really well with tremendous focus.

"Utah Valley really had no opportunity to be in the match."

To the Wildcats disappointment, the clinching victory of Friday night's match did not carry over to Saturday's play against BYU. The team fell to the Cougars in four games, 11-15, 15-9, 10-15, 4-15.

"They are No. 1 in the country for good reason," Carlat said of BYU.

Facing the Cougars, he said that his team played "pretty well," but never caught up to BYU's style of play. He attributed that in part to the fact that the Wildcats had never seen a team quite like BYU.

"BYU has a very fast tempo in their offensive play," Carlat said. "Also, our middle blockers had not yet played against 6-foot-7 and 6-foot-8 opponents - it was a definite mismatch of height."

Carlat did however comment that sophomore outside hitter Kevin Jones and graduate student outside hitter/middle blocker Mike Stowell gave a good performance against the Cougars.

"We needed to be at a higher level," he said. "But these two definitely gave a prideful effort."

The Wildcats will have a week to recover from the BYU loss before heading to northern California to take on the Division I ranked Stanford Cardinal and the club Golden Bears team of California March 5 and 6.

"Cal will definitely be contending for NIRSA championship with us," Carlat said. -Kate Longworth and Keith Carmona