Arizona wins 1 in Oregon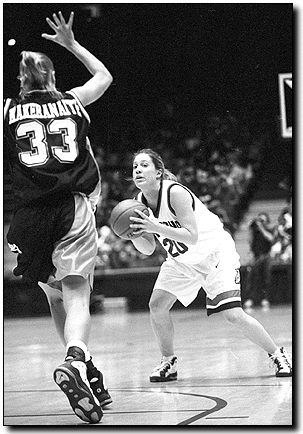 Nicholas Valenzuela
Arizona Daily Wildcat

Freshman guard Julie Brase (20) prepares to put up a shot against an Oregon State defender during a Jan. 23 game at McKale Center. Brase had 11 points during Sunday's game against No. 18 Oregon.


The UA women's basketball team split games between Oregon and Oregon State this weekend on the road.

Friday, Arizona knocked off Oregon State 66-53. Sunday, Arizona lost to No. 18 Oregon 82-76.

Oregon had their third-largest crowd ever Sunday afternoon, packing 7,861 into McArthur Court for Senior Day. Oregon is 22-4 overall, 13-2 in the Pacific 10 Conference. Arizona (14-9, 9-5) dropped to fourth place in the conference after the loss to the Ducks.

"It was really good," UA assistant coach Denise Dove said. "Their crowd has changed in the last few years. They used to be rude and obnoxious but now they have a sense of respect for the opponent. We enjoyed playing in front of them."

Junior guard Lisa Griffith led Arizona with 20 points, including 5-of-11 three-point shooting. Junior forward Angela Lackey had 15 points and six rebounds. Freshman guard Julie Brase had 11 points.

"Lisa's gotten some good looks at the basket and hit some big threes to get us in the game," Dove said.

Oregon was led by Angelina Wolvert's 15 points and 14 rebounds, Natasha O'Brien's 18 points and Shaquala Williams' 19 points.

With the win over Arizona, Oregon takes a half-game lead over UCLA in the Pac-10 standings with three games left.

"The team really came out and responded well to a very tough challenge by Arizona today," Oregon head coach Jody Runge said. "I thought our post players played very well tonight and our passing was much better. There was a lot of pressure on this team to win two games at home this weekend and they didn't back down."

Against the Beavers, Lackey led Arizona with 18 points. Griffith had 15, while freshman forward Elizabeth Pickney had eight rebounds. Arizona was outrebounded in both games.

"I thought we played very well (against OSU)," Dove said. "I think, for the weekend, we came in very focused.

"If we would have forced more turnovers and rebounded better, we would have won the game against Oregon," Dove said. "We really would have liked a sweep."

Sophomore guard Reshea Bristol also returned to the starting lineup this weekend to replace Brase.