A call for support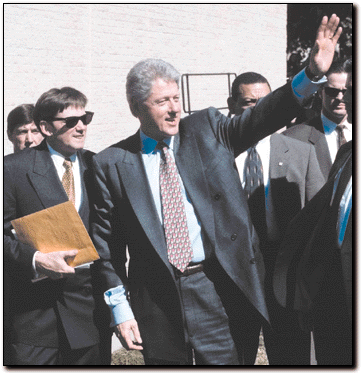 Wildcat File Photo
Arizona Daily Wildcat

President Bill Clinton waves to the crowd outside the TCC Music Hall before leaving for Tucson Electric Ball Park. Clinton is the first president to visit Tucson since Gerald Ford.


President Clinton yesterday marked his first official Tucson visit by urging more than 3,000 spectators to intervene and save Social Security and Medicare for the country's young people.

"America is going to be a stronger, better place," Clinton told audience members packed elbow-to-elbow in the Tucson Convention Center's Music Hall. "These programs will be there for the next generation of Americans."

Clinton outlined his proposal to eager Tucsonans, hundreds of whom grappled toward the stage for a chance to shake the president's hand after the half-hour address. Throughout the speech, Clinton was sporadically interrupted with cheers of approval and standing ovations from the crowd.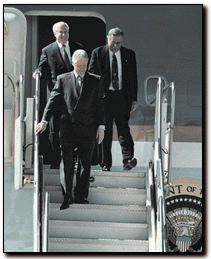 Wildcat File Photo
Arizona Daily Wildcat

President Clinton steps out of Air Force One yesterday morning at Davis-Monthan Air Force Base.

The president said he wants to set aside 62 percent of America's budget surplus and commit it to Social Security. He also said 15 percent of excess federal funds can be applied to Medicare.

"Ten to 20 years from now, we'll all be thanking goodness that the Congress of the United States was willing to do what it takes to save Social Security for 75 years," Clinton said.

Medicare, the United States' health-care program for Americans age 65 and over, is stable for a decade, but will not be sufficient for 20 years, the president said.

"We can't sustain the present budgeted cost of Medicare," he said. "We're going to have to put some more money in it."

While Clinton presented several solutions to the growing problems with Medicare and Social Security, he reminded the audience that the programs' futures are bleak without help.

"It means that before you know it, there will only be two people working for every one person drawing Social Security," he said. "It means even before that, there will be many, many more people on Medicare. Even staying healthy often costs money."

Prior to the talk, Clinton was welcomed to the Old Pueblo by Reps. Ed Pastor, D-Tucson and Jim Kolbe, R-Tucson, Pima County Supervisor Sharon Bronson and Mayor George Miller.

During his introductory speech, Kolbe said budget surpluses alone will not save the federal programs.

"Social Security is not broken, but we need to fix it now for the long-term future," he said.

After jeers from some audience members, Kolbe called on Clinton and fellow legislators to "develop a bipartisan, fiscally-responsible package."

Miller, outfitted in a cowboy hat and jeans, told Clinton that Tucson's support for his political agenda has never faltered.

"We depend upon you to blueprint a strong Social Security plan for the present and the future," Miller said.

He quipped that the welcome would have been warmer if first lady Hillary Clinton had joined the president - a remark met with laughter and cheers.

But some on-lookers were not as quick to make Clinton feel at home. About 50 protesters gathered outside the Tucson Convention Center, some touting picket signs that denounced the president for his admitted improprieties with former White House intern Monica Lewinsky.

"We're out here to protest the fact that the man is still president," said John McCoy, head of the University of Arizona's Libertarian Students.

McCoy and his fellow hecklers shouted slogans like "Tucson says he's guilty" and "stay away from my daughter."

Clinton did not mention the impeachment proceedings during his speech or appearances throughout Tucson, sticking exclusively to comments on Social Security and Medicare.

Pitfalls within the federal programs drew concern from Sharon Kha, the UA's associate vice president for communications, and her 27-year-old son - both in the audience for Clinton's address.

"I talked about him working most of his life to support my Social Security and not having any for himself," Kha said last night. "What's his future going to be like? Will he be able to afford a house for himself before he's 40?"
---