Regents approve new union funding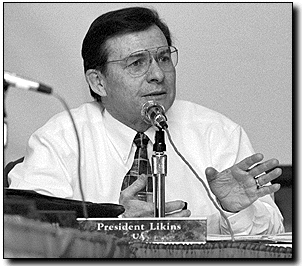 Kristy Mangos
Arizona Daily Wildcat

UA President Peter Likins speaks to the Arizona Board of Regents about the plan for a new Memorial Student Union Friday at the Arizona Cancer Center. The Regents unanimously approved the plan.


Amid a flurry of boisterous praise, the Arizona Board of Regents Friday unanimously approved the construction of the new Memorial Student Union.

Regents lauded University of Arizona administrators' adoption of a design-build construction plan, along with a program to pay off the project's $59 million price tag- with UA Athletic department dollars in lieu of a student fee.

"This is exciting," said Regents President Judy Gignac. "I can't begin to tell you how exciting this is. What's equally exciting is the work students have done with you."

The team that took charge of union planning included top administrators like UA President Peter Likins and Joel Valdez, the university's vice president for business affairs.

Valdez called Likins a "designated hitter" on the union planning team. The UA president returned the compliment by labeling Valdez the "coach."

Both Likins and Valdez gave credit to Associated Students President Tara Taylor for prompting the decision to not seek a student fee.

Taylor "convinced this stubborn old president" not to call for a student surcharge, Likins said, adding that financing the project was often a hairy process.

"Thirty days ago, I don't think we knew how the hell we were going to do it," he said.

Administrators worried that another failed student fee referendum would nullify years of work. In November 1997, UA students defeated a $40 per semester fee plan with a 74 percent vote.

Likins said that when Jim Livengood, UA athletic director, understood the whole project was "in jeopardy," he offered to reallocate $500,000 - one-third of the department's budget from the state.

Livengood said that while state funds only account for 5 percent of his budget, "we're not a money tree.

"We're going to have to find the money too," he said. "We don't have a fund to pull this out of. We'll have to figure out a way to do it."

But Livengood was confident of his department's ability to find the money.

"We'll make it work," he said. "The good news is it doesn't affect us until next fiscal year."

The UA Athletics department finances most of its operations by fundraising, he added.

"I think it was the right thing to do," Livengood said Thursday. "The Student Union, I think, is a real critical part of this institution. The Athletic department is a part of the University of Arizona."

The department will give $100,000 annually for five years. UA officials will augment the department's donation with money from a fund used for campus building enhancements.

"Athletics is a part of the student community in this place and he (Livengood) demonstrated that," Likins said.

Livengood said while he has "no magic answer" as to how he will replace the reallocated funds, he thought negative results would come from a student vote.

"We're a part of this university," he said. "If we're part of the university we just can't only do things when it's convenient for us to do it."

However, Regent Rudy Campbell expressed some concern for student athletes.

"That bothers me a little bit that a small section of our students are going to contribute $500,000," Campbell said.

Likins said UA officials are not done with the union's finances quite yet.

"We're going to raise $10 million," he said.

The estimated 33 months of construction will proceed in two phases, starting in July with the demolition of the union's east wing.

In other business, the Regents unanimously approved a 4.89 percent increase, raising the average rent by $118 to pay for the construction of two new dorms. Graham-Greenlee residents will endure the most drastic increase, $249, to pay for "significant" renovations.

The board quickly passed a proposal to construct a new Strategic Alternative Learning Techniques Center on East Second Street. To date, the UA has $2.2 million of the needed $2.7 million, and construction will begin in 2000. The building should be occupied by September of 2001.

The Regents unanimously approved the UA's proposal to purchase the old Tau Kappa Epsilon fraternity house. At this point, the building serves as Pima Residence Hall, and 20,000 square feet will be added to the structure.

The house cost $1.17 million, and the UA will pay $3.72 million for the 80-bed addition. They expect the addition to be occupied by August 2001.